Pianists Christina and Michelle Naughton to Perform at Brookhaven Lab, October 22
October 1, 2014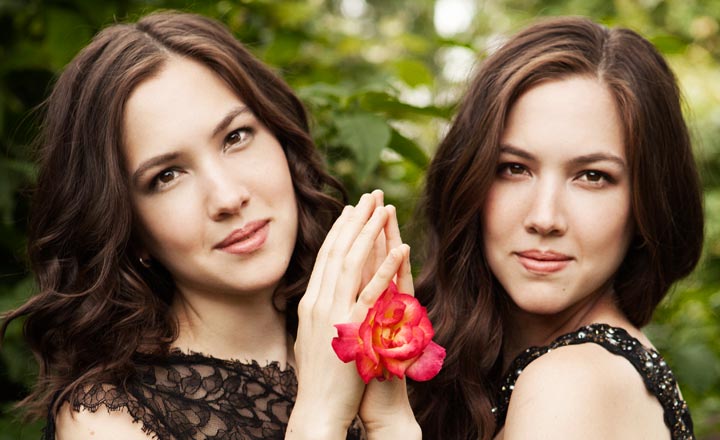 enlarge
Pianists Christina and Michelle Naughton
UPTON, NY — Pianists Christina and Michelle Naughton will perform in concert at the U.S. Department of Energy's Brookhaven National Laboratory on Wednesday, October 22, 2014 at noon, in Berkner Hall. Sponsored by Brookhaven Science Associates, the event is free and open to the public. All visitors to the Laboratory 16 and older must bring a photo I.D.
Graduates of the Juilliard School and the Curtis Institute of Music and recipients of the Festorazzi Prize, the Naughtons released their first world-wide album in 2012. The album was praised by Der Spiegel magazine for "standing out with unique harmony, and singing out with stylistic confidence." Classics Today described the album as a "dynamic duo debut."
The Naughton's have appeared with many orchestras, including Philadelphia, New Jersey, North Carolina, Nashville, Virginia, Maryland, Toledo, Napa Valley, Tulsa, the Buffalo Philharmonic, the Wisconsin Chamber Orchestra, and the Erie Philharmonic. Appearances also include ensembles such as the Mahler Chamber Orchestra, Hong Kong Philharmonic, Royal Flemish Philharmonic in Belgium, and Hamburg Chorus. Past and future seasons feature collaborations under the batons of conductors such as Stephene Deneve, Edo deWaart, Charles Dutoit, JoAnn Falletta, Giancarlo Guerrero, and Michael Stern.
Recitals also include venues in the United States such as the Kennedy Center's Terrace Theater and New York City's Naumburg Orchestral Concert Series at the Historic Naumberg Bandshell in Central Park. Performances have been broadcast on radio stations in the United States and Europe.
For more information about Christina and Michelle Naughton and to hear a sample of their music: http://www.christinaandmichellenaughton.com/media/
Call (631) 344-2345 for more information.
2014-11670 | INT/EXT | Newsroom