NOTE: This BSA Noon Recital featuring the Daedalus Quartet—which was scheduled for today, Jan. 28—has been canceled, because the Brookhaven Lab site remains closed after the winter storm. The recital has not been rescheduled at this time.
Daedalus Quartet to Give a Recital at Brookhaven Lab, January 28
January 9, 2015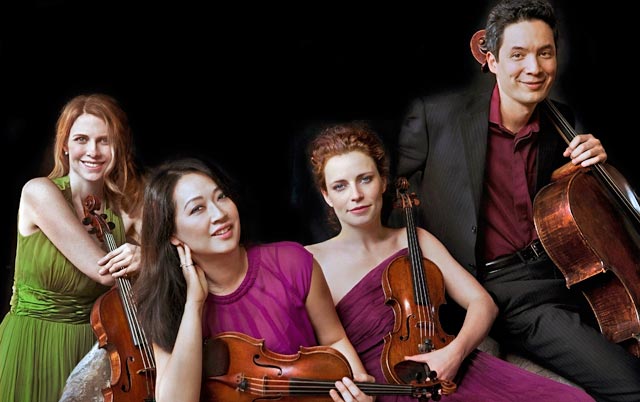 enlarge
The Daedalus Quartet. Photo credit: Lisa-Marie Mazzucco
UPTON, NY — The Daedalus Quartet will give a recital at the U.S. Department of Energy's Brookhaven National Laboratory on Wednesday, January 28, 2015, at noon in Berkner Hall. Sponsored by Brookhaven Science Associates (BSA), the event is free and open to the public. All visitors to the Laboratory 16 and older must bring a photo I.D.
Praised by The New Yorker as "a fresh and vital young participant in what is a golden age of American string quartets," the Daedalus Quartet has established itself as a leader among the new generation of string ensembles. In the 13 years of its existence the Daedalus Quartet has received plaudits from critics and listeners alike for the security, technical finish, interpretive unity, and sheer gusto of its performances.
The Quartet has performed in many of the world's leading musical venues in the United States, including Carnegie Hall, Lincoln Center (Great Performers series), the Library of Congress, the Corcoran Gallery in Washington, D.C., and Boston's Gardner Museum, as well as in Canada on major series in Montreal, Toronto, Calgary, Winnipeg, and Vancouver. Abroad, the ensemble has also been heard in famed locations such as the Musikverein in Vienna, the Mozarteum in Salzburg, the Concertgebouw in Amsterdam, the Cité de la Musique in Paris, and at leading venues in Japan. Since 2001, the Quartet has appeared several times as part of the BSA recital series at Brookhaven National Laboratory.
The award-winning members of the Quartet hold degrees from the Juilliard School, Curtis Institute, Cleveland Institute, and Harvard University.
The recital program at Brookhaven will include Robert Schumann's Quartet in F, Op. 41 no. 2, and the Sibelius Quartet Op. 56 'Voces Intimae'.
For more information on the Daedalus Quartet: http://www.daedalusquartet.com/
Call (631) 344-2345 for more information.
2015-11690 | INT/EXT | Newsroom