Contact:
Peter Genzer
, (631) 344-3174 | Written by Joe Gettler
BSA Distinguished Lecture Tuesday, 4/28: 'What Are Climate Models Good For?'
April 22, 2015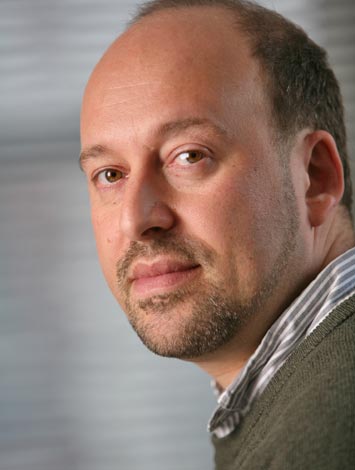 enlarge
NASA Goddard Institute for Space Studies Director and climate scientist Gavin Schmidt, who will give a BSA Distinguished Lecture at Brookhaven Lab at 4:30 p.m. on Tuesday, April 28
UPTON, NY — Director of the NASA Goddard Institute for Space Studies and climate scientist Gavin Schmidt will give a BSA Distinguished Lecture titled "What Are Climate Models Good For?" at the U.S. Department of Energy's Brookhaven National Laboratory on Tuesday, April 28, at 4:30 p.m. in Berkner Hall.
The complex, data-driven climate simulations and models scientists develop are fundamental in understanding Earth's emerging climate patterns, attributing past changes, and making projections for the future.
During this BSA Distinguished Lecture, Schmidt will discuss constructing climate models and assessing their strengths, limitations, and credibility. He will then explain how climate models are used and misused, while demonstrating that they are, indeed, good for something.
This lecture is scheduled to be webcast live and archived online at www.bnl.gov/video.
About the Speaker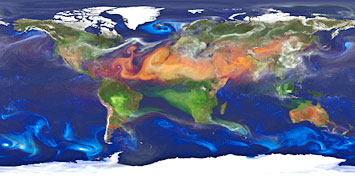 enlarge
A global atmospheric modeling run from the Discover supercomputer at the NASA Center for Climate Simulation at Goddard Space Flight Center in Greenbelt, Maryland, for studying the role of weather in Earth's climate system. (Image credit: William Putman, NASA/Goddard)
Schmidt has been director of the NASA Goddard Institute for Space Studies since June 2014. He has more than 100 peer-reviewed publications and co-authored with Josh Wolfe Climate Change: Picturing the Science. He has worked on education and outreach with the American Museum of Natural History, the College de France, and the New York Academy of Sciences, and gave a TED talk in 2014. In 2011, he was awarded the American Geophysical Union's inaugural Climate Communications Prize and named EarthSky's Science Communicator of the Year.
Schmidt earned a B.A. (Honours) in mathematics from Oxford University in 1988 and a Ph.D. in applied mathematics from University College London in 1994, and was a postdoctoral fellow for the National Oceanic and Atmospheric Administration.
About BSA Distinguished Lectures
BSA Distinguished Lectures are sponsored by Brookhaven Science Associates, the company that manages Brookhaven Lab, to present topics of general interest to the Laboratory community and the public. These lectures are free and open to the public. All visitors to the Laboratory 16 and older must bring a photo ID.
The Laboratory is located on William Floyd Parkway, one-and-a-half miles north of Exit 68 of the Long Island Expressway.
For more information, call (631) 344-2345.
2015-11717 | INT/EXT | Newsroom