Science on Screen: Brookhaven National Laboratory Presents 'The Martian' Film and Discussion at Huntington Cinema Arts Centre, September 21, 7:30 p. m.
September 14, 2016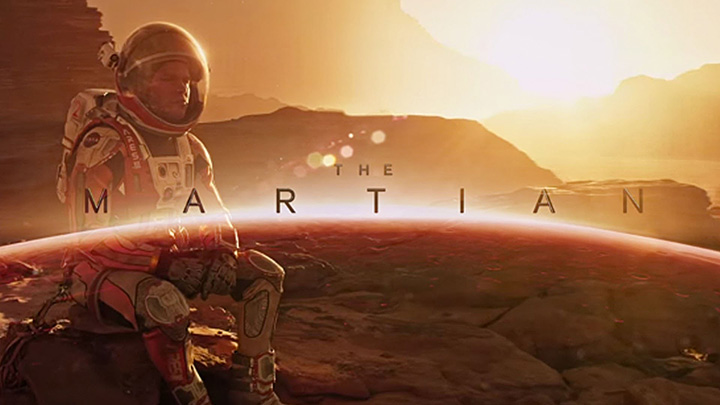 Image courtesy of 20th Century Fox.
UPTON, NY — On Wednesday, September 21, Brookhaven National Laboratory will host a screening of The Martian at the Cinema Arts Centre in Huntington, NY, at 7:30 p.m. The Martian is a 2015 film starring Matt Damon as an astronaut stranded on Mars after his team presumed him dead and he must rely on his ingenuity to signal Earth that he is alive. Brookhaven space radiation researcher Chiara La Tessa will introduce the film and lead a discussion afterwards.
About the Film
During a manned mission to Mars, astronaut Mark Watney (Matt Damon) is presumed dead after a fierce storm and left behind by his crew, but he has survived and finds himself stranded and alone on the hostile planet. With only meager supplies, he must draw upon his ingenuity, wit and spirit, to find a way to signal to Earth that he is alive. Millions of miles away, the National Aeronautics and Space Administration (NASA) and a team of international scientists work tirelessly to bring "the Martian" home, while his crewmates concurrently plot a daring, if not impossible, rescue mission. As these stories of incredible bravery unfold, the world comes together to root for Watney's safe return. (USA, 2015, 164 min., English, PG-13, DCP | Dir. Ridley Scott)
About the Scientist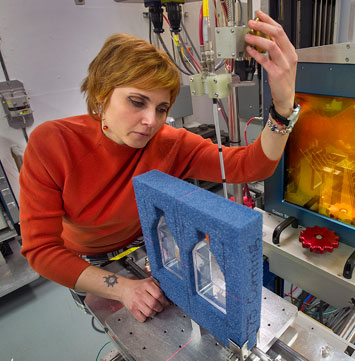 enlarge
Dr. Chiara La Tessa
Chiara La Tessa, a researcher in the Collider-Accelerator Department at Brookhaven Lab, has worked for more than 10 years in space radiation research. She will introduce the film and discuss how not so long ago people didn't believe that NASA would be planning a trip to Mars in such a short time. In The Martian, fiction meets science detailing the obvious and less evident issues relating to the exploration of other planets far away from Earth and very hostile to our concept of living organisms. La Tessa's research at Brookhaven focuses on addressing the role of radiation in space exploration, as well as cancer therapies and the characterization of nuclear processes in those fields. "I am surprised by all the different points of view that this movie manages to touch with accuracy and simplicity at the same time," said La Tessa.
Chiara La Tessa is a graduate from the University Federico II in Naples, Italy. Her passion for research brought her around the world—graduate school at Chalmers University in Goteborg, Sweden, a postdoc at the University Tor Vergata in Rome, Italy, and a second postdoc at GSI in Darmstadt, Germany— before arriving at her current position at Brookhaven National Laboratory.
Science on Screen® creatively pairs screenings of classic, cult, and documentary films with entertaining and compelling introductions and post-screening discussions by notable figures from the world of science, technology, and medicine, particularly showcasing leaders from our strong scientific community here on Long Island. Each film is used as a jumping off point for the speaker to engage our audience and reveal current scientific research or technological advances.
For more information and to purchase tickets: https://www.bnl.gov/stakeholder/Science-on-Screen/
2016-11870 | INT/EXT | Newsroom