Contact:
Peter Genzer
, (631) 344-3174 | Written by Ariana Tantillo
Brookhaven Lab's Robert McGraw Receives AS&T's Outstanding Publication Award from the American Association for Aerosol Research
Award recognizes novel method he developed nearly 20 years ago at Brookhaven Lab to simulate aerosol dynamics
November 8, 2016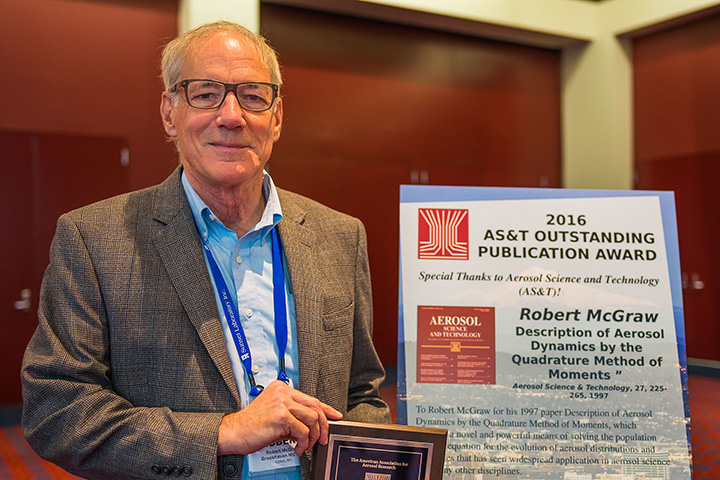 enlarge
Robert McGraw at the 2016 American Association for Aerosol Research Annual Conference, where he was presented with the Aerosol Science and Technology (AS&T) Outstanding Publication Award for his 1997 paper that described a novel method to simulate aerosol dynamics.
UPTON, NY—Robert McGraw, head of the
Aerosol Chemistry and Microphysics Group
within the Environmental and Climate Sciences Department at the U.S. Department of Energy's (DOE) Brookhaven National Laboratory, has received the 2016
Aerosol Science and Technology (AS&T) Outstanding Publication Award
from the American Association for Aerosol Research (AAAR). Established in 2015, this award is given annually to one paper published in the journal
AS&T
that has had a significant impact on the field of aerosol research, without regard to publication date.
McGraw—who is also an adjunct professor of chemical and environmental engineering at Yale University—is being recognized for his 1997 paper, "Description of Aerosol Dynamics by the Quadrature Method of Moments." In this paper, McGraw described a new way to mathematically characterize how the distribution of aerosols—tiny particles suspended in the atmosphere that are generated from industrial emissions, vegetation, oceans, desert dust, and other sources—evolves over time.
"It has been really gratifying to see this method, originally presented as a way to solve the equations describing aerosol evolution, now being used in so many different areas. But even more important than the award itself is the acknowledgment by my scientific colleagues at Brookhaven and elsewhere who made it happen," said McGraw.
To understand how aerosols are impacting climate, scientists need to measure the distributions of particle concentrations and sizes—which affect aerosols' atmospheric lifetimes, their physical and chemical properties, and their influences on clouds and solar radiation—and to incorporate these influences in climate models. Representing the distributions through computer models is challenging because of the large number of variables involved (numbers of particles in each size range as a function of location and time) and the significant changes in distribution that can occur as aerosols interact with gases and other aerosol species in the atmosphere. For example, aerosol particles can grow in size by taking up condensable gases or by colliding and combining with other particles.
McGraw's method solves this challenge of describing aerosol dynamics through characterizing the distribution by the number of particles in a given space, the sum of the radii of those particles, the total area and volume of those particles, and other related quantities called "moments." The change in these moments is a very efficient way of representing the change in the size distribution of the particles. Uptake of condensable gases by the particles increases their radii, area, and volume, but the total number of particles stays the same. Collision and combination among particles decreases the total number of particles (also their radii and area), but the volume of the particles does not change.
Knowing just a few of these moments, researchers can calculate aerosol properties such as the light-scattering coefficient, which determines how much sunlight aerosols are scattering in the atmosphere. The effects of aerosols on climate can be more accurately represented with this information.
"This method is characteristic of Bob's work: identify a problem and look for an alternative approach to solve it, rather than a brute-force extension of prior approaches," said Brookhaven senior scientist Stephen Schwartz, who previously served as chief scientist of DOE's Atmospheric Science Program. "His method applies the same idea as the one that guides statistical mechanics and thermodynamics: you don't need (or want) to know the location and velocity of every gas molecule. It is sufficient to know the concentration and mean velocity of the molecules to determine what you really want to know, such as the energy, temperature, and pressure of the gas."
McGraw's method has seen widespread use not only in describing aerosol dynamics but also in describing the evolution of distributions in polymers, bubbles, and precipitates in liquid and solid solutions. His technique is compatible with three-dimensional computational fluid dynamics modeling of systems ranging from small-scale engineering systems, such as high-pressure turbulent combustors for jet aircraft, to global-scale atmospheric systems like hurricanes and tornadoes. In fact, several of the nearly 500 papers that cite McGraw's work are on topics outside aerosol science, including supersonic combustion, biodegradable stent coatings, and nanomaterial synthesis.
"I was thrilled to hear that Bob's novel solution to a vexing problem, published years ago, is now being recognized by AAAR. His award is well deserved!" said Alice Cialella, chair of Brookhaven Lab's Environmental and Climate Sciences Department.
Currently, McGraw co-leads Brookhaven's Scientific Focus Area for the DOE Atmospheric System Research Program, Influences of Aerosols and Clouds on Climate and Climate Forcing. His research interests include atmospheric particle formation, aerosol dynamics, the microphysics of drizzle formation, thermodynamics, and statistical physics.
McGraw began his Brookhaven career in the early 1980s and returned to Brookhaven in 1993 after working at Rockwell Science Center for nine years. At Rockwell, he researched statistical physics and computational models of light propagation and scattering in materials for nonlinear optics applications. During this time, he served as program manager and principal investigator on a contract led by the U.S. Air Force Phillips Laboratory and for several North American Aviation Division research programs. He holds a PhD in physical chemistry and an MS in chemistry from the University of Chicago and a BS in chemistry from Drexel University.
McGraw was presented with his award at the 2016 AAAR Annual Conference that was held October 17 through 21 in Portland, Oregon. He received $2000 and a plaque, and will be featured in an AS&T announcement.
The American Association for Aerosol Research (AAAR) is a nonprofit professional organization for scientists and engineers who wish to promote and communicate technical advances in the field of aerosol research. AAAR fosters the exchange of information among members and with other disciplines through conferences, symposia, and publication of a professional journal, Aerosol Science and Technology (AS&T).
Brookhaven National Laboratory is supported by the Office of Science of the U.S. Department of Energy. The Office of Science is the single largest supporter of basic research in the physical sciences in the United States, and is working to address some of the most pressing challenges of our time. For more information, please visit science.energy.gov.
2016-11891 | INT/EXT | Newsroom