Contact:
Peter Genzer
, (631) 344-3174 | Written by Joe Gettler
BSA Distinguished Lecture Thursday, 3/23: 'Unlocking the Materials Genome Through Combinatorial Nanoscience'
March 7, 2017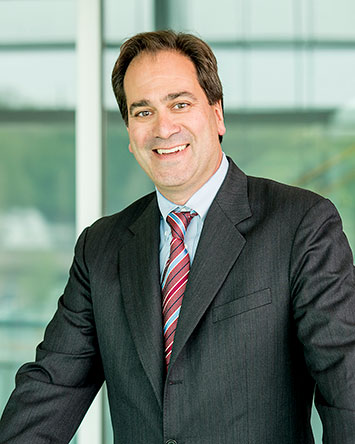 enlarge
Chad Mirkin (photo: Matthew Gilson)
Chad Mirkin, Director of the International Institute for Nanotechnology at Northwestern University, will present a BSA Distinguished Lecture at the U.S. Department of Energy's Brookhaven National Laboratory on Thursday, March 23. Mirkin's talk, titled "Unlocking the Materials Genome Through Combinatorial Nanoscience," will be held at 4 p.m. in Berkner Hall.
Addressing some of the world's significant challenges in energy, electronics, medicine, and more will require next-generation materials created at the nanoscale—the tiny world within our own where elements are so small they are measured in billionths of a meter. Scientists' abilities to create those next-generation materials, however, have long been restrained by the limitations of traditional approaches.
During this talk, Mirkin will discuss the novel "nanocombinatorics" approach to create unique combinations of atoms from across the Periodic Table of Elements. Leveraging recent advances in nanoscale lithography, Mirkin and his team print and develop libraries containing millions of nanomaterials with predetermined compositions, sizes, and structural sophistication on a single surface. This process enables the researchers to create many new special materials, with unprecedented speed and precision.
About the Speaker
Mirkin is Director of the International Institute for Nanotechnology and the George B. Rathmann Professor of Chemistry, Materials Science and Engineering, and, by courtesy, Chemical and Biological Engineering and Biomedical Engineering. A chemist and world-renowned nanoscience expert, he has authored more than 670 manuscripts and 1,000 patent applications—with 290 issued—and he founded several companies, commercializing nanotechnology advances in areas of the life sciences, biomedicine, and lithography.
Mirkin has been recognized with more than 100 national and international awards, served as member of former President Obama's Council of Advisors on Science & Technology, and is a Fellow of the three major national academies in the United States: the National Academies of Engineering, Medicine, and Sciences. He is also an associate editor of the Journal of the American Chemical Society, the founding editor of the journal Small, and co-editor of several books. Mirkin earned a Ph.D. in chemistry from Pennsylvania State University in 1989 and was a National Science Foundation postdoctoral fellow at MIT before joining Northwestern University as a professor in 1991.
About BSA Distinguished Lectures
BSA Distinguished Lectures are sponsored by Brookhaven Science Associates, the company that manages Brookhaven Lab, to present topics of general interest to the Laboratory community and the public. These lectures are free and open to the public. All visitors to the Laboratory 16 and older must bring a photo ID.
This lecture is scheduled to be webcast live and archived on WBNL.
The Laboratory is located on William Floyd Parkway, one-and-a-half miles north of Exit 68 of the Long Island Expressway.
For more information, call (631) 344-2345.
2017-12083 | INT/EXT | Newsroom