Walt Whitman High School's Justin Wallace Wins Top Honors at Brookhaven Lab's Model Bridge Building Contest
March 30, 2018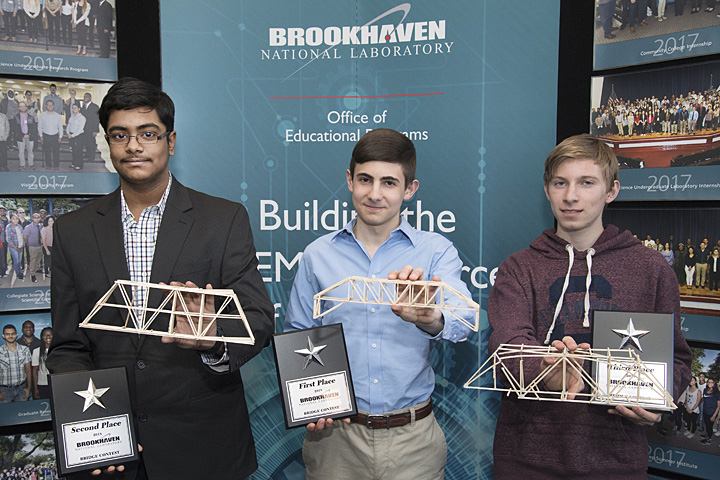 enlarge
The winning students of the Brookhaven National Laboratory 2018 Bridge Contest, from left—Hasnain Sayed, Bay Shore High School, second place; Justin Wallace, Walt Whitman High School, first place; Harrison Goldstein, Smithtown High School East, third place. Not pictured is Sahil Sangwan, Walt Whitman High School, winner of the aesthetic award for best-looking bridge.
UPTON, NY — Justin Wallace of Walt Whitman High School in Huntington Station garnered the top spot in the 2018 Model Bridge Building Contest at the U.S. Department of Energy's Brookhaven National Laboratory.
Students from 16 Nassau and Suffolk County high schools designed and constructed a total of 87 model bridges intended to be simplified versions of real-world bridges. In this contest, efficiency is calculated from the bridge's weight and the weight the bridge can hold before breaking or bending more than one inch. The higher the efficiency, the better the design and construction.
Justin Wallace from Walt Whitman High School took the top spot, building a bridge that weighed 14.62 grams with an efficiency of 2117. Wallace had placed second in the Lab's 2017 competition.
Hasnain Sayed from Bay Shore High School placed second with a bridge that weighed 23.38 grams with an efficiency of 1316.
Third place went to Harrison Goldstein of Smithtown High School East. Goldstein's bridge weighed 14.65 grams with an efficiency of 935.
Sahil Sangwan of Ward Melville High School won the aesthetic award for the best-looking bridge.
The construction and testing of model bridges promotes the study and application of principles of physics and engineering, and helps students develop "hands on" skills. Students get a flavor of what it is like to be engineers, designing structures to a set of specifications and then seeing the bridges they build perform their function.
Brookhaven Lab's Office of Educational Programs coordinated the Regional Model Bridge Building Contest. Now, the two top winners—Wallace and Sayed—are eligible to enter the 2018 International Bridge Building Contest, to be held in Chicago, Illinois, in April.
Gillian Winters, a science teacher from Smithtown High School East, conducted a bridge competition in her classroom to help students prepare for the contest at Brookhaven. She also built a bridge of her own to compete among students.
"My students built two bridges—one that we could smash in the classroom and one for the Lab competition," said Winters. "I'm getting better, but I'm thrilled when the students beat my bridge!"
First place winner Justin Wallace said he built a few bridges before deciding which one to enter in the Lab contest.
"I did some online research on bridge design to gain a better understanding of the concepts and specifications," said Wallace. "As you can imagine, I'm very happy my research paid off!"
Wallace will graduate from Walt Whitman High School this year and plans to pursue a career in mechanical engineering.
Call (631) 344-2345 for more information.
Media Contacts: Jane Koropsak, jane@bnl.gov, (631) 344-4909, or Peter Genzer, genzer@bnl.gov, (631) 344-3174.
Brookhaven National Laboratory is supported by the Office of Science of the U.S. Department of Energy. The Office of Science is the single largest supporter of basic research in the physical sciences in the United States, and is working to address some of the most pressing challenges of our time. For more information, please visit science.energy.gov.
Follow @BrookhavenLab on Twitter or find us on Facebook.
2018-12799 | INT/EXT | Newsroom