Tom Daniels Named Associate Lab Director for Facilities & Operations at Brookhaven Lab
July 10, 2018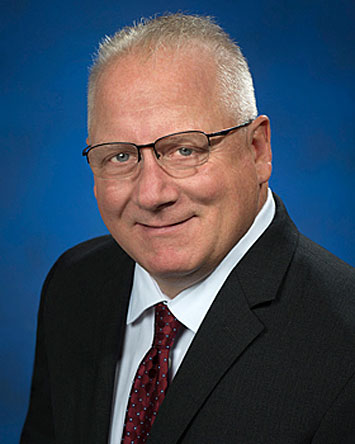 Tom Daniels
UPTON, NY — Tom Daniels, a project management professional with more than 29 years of experience, has been named Associate Laboratory Director (ALD) for Facilities & Operations (F&O) at the U.S. Department of Energy's (DOE) Brookhaven National Laboratory, effective July 2, 2018. Daniels had previously served as interim ALD of F&O since July 2017.
With a total staff of 488 and a budget of $119 million, F&O is responsible for supporting science at the Lab by creating and maintaining a modern, sustainable campus and the infrastructure to support it. In his role, Daniels oversees the entire F&O Directorate, including the Modernization Project Office (MPO), Safeguards & Security, Emergency Services, Guest Services, Energy & Utilities, Production, Site Resources, Site Planning & Infrastructure Management, and Operational Support & Planning.
"I'm honored to have the opportunity to lead the F&O Directorate at an exciting time for the Laboratory," said Daniels. "I look forward to continuing the progress we've made in revitalizing Laboratory infrastructure and streamlining workflow across the site to better support both science and operations at Brookhaven."
Daniels joined the Laboratory in 1989 and served as Deputy ALD for F&O from December 2016 to July 2017, when he was named Interim ALD. Prior to that, he managed MPO, overseeing a staff of 40 focused on revitalizing the infrastructure of the Laboratory.
"Over his nearly 30 years at Brookhaven, Tom has demonstrated an impressive breadth of knowledge about the Lab and how his organization can support world-class science, both now and in the future," said Brookhaven Lab Director Doon Gibbs. "Renewing the Lab's infrastructure and delivering services in a strategic, efficient manner are crucial to accomplishing our mission on behalf of DOE. We're very pleased to have Tom leading that effort."
Previously, Daniels held several roles in MPO, managing teams of engineers and architects that designed and constructed infrastructure improvements. These roles included Project Director of Special Maintenance, Deferred Maintenance, and Institutional General Plant Projects; and Project Director of American Recovery and Reinvestment Act General Plant Projects.
From 2005-2008, Daniels was the Decontamination and Decommissioning Operations Manager for the Brookhaven Graphite Research Reactor and High Flux Beam Reactor, where he was responsible for all fieldwork related to the successful decommissioning activities at those facilities. Earlier, he played major roles in the cleanup of the former Hazardous Waste Management Facility and the Peconic River.
From 1989-2000, as a reactor shift supervisor at the High Flux Beam Reactor, Daniels was responsible for the safe operation of the reactor, including reactor startup, shutdown, fuel handling, and reactor system modifications and upgrades.
Daniels is a certified project management professional and an accredited professional in LEED — Leadership in Energy & Environmental Design. He holds a Bachelor of Science in Mechanical Engineering from Villanova University and a Master of Science in Mechanical Engineering from Manhattan College.
Note to local editors: Tom Daniels is a resident of Wading River, NY.
2018-13007 | INT/EXT | Newsroom