Contact:
Peter Genzer
, (631) 344-3174 | Written by Joe Gettler
BSA Distinguished Lecture on 8/20: The Science of Laughter
July 29, 2019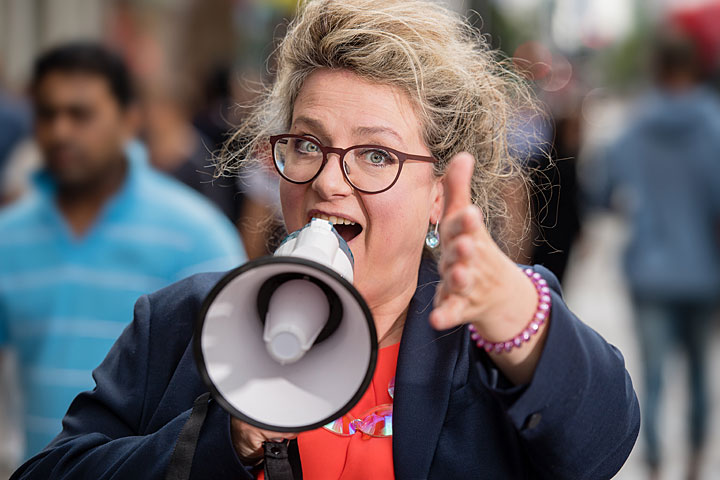 enlarge
Neuroscientist and stand-up comic Sophie Scott (Photo: Paul Wilkinson)
UPTON, NEW YORK — Neuroscientist and stand-up comic Sophie Scott of University College London will give a talk, "The Science of Laughter," at the U.S. Department of Energy's Brookhaven National Laboratory on Tuesday, Aug. 20. Her talk, a BSA Distinguished Lecture, will be held at 4 p.m. in Berkner Hall.
During this lecture, Scott will discuss some of the surprising science behind why we laugh, how laughter has evolved, and how our brains process laughter. She will explain how we learn to use laughter communicatively and how our development can affect how we process laughter.
About the Speaker
Sophie Scott is director of University College London's Institute of Cognitive Neuroscience, where she has also led the Speech Communication Lab since 2004. She is a professor of cognitive neuroscience at the university and earned her Ph.D. in cognitive science there in 1994.
Scott's TED talk, titled "Why We Laugh," has been viewed online more than 3.7 million times. She has authored or co-authored more than 130 refereed journal articles and has written more than 20 articles for mainstream media, including The Guardian and BBC. Scott has served on the editorial board of the journal Cognitive Neuroscience; as associate editor for The Psychologist, Brain and Language, and Quarterly Journal of Experimental Psychology; and editor of Neuropsychologia's Language section.
Scott is a fellow of the British Academy and Academy of Medical Sciences and, among many recognitions, received the Royal Literature Society's Reading Matters prize and was honored at three Royal Society summer science exhibitions and the Royal Institution Christmas Lectures.
About BSA Distinguished Lectures
BSA Distinguished Lectures are sponsored by Brookhaven Science Associates (BSA), the company that manages Brookhaven Lab, to present topics of general interest to the Laboratory community and the public. These lectures are free and open to the public. All visitors to the Laboratory 16 and older must bring a photo ID.
Scott's talk is being presented in conjunction with the 40th anniversary of Brookhaven Women in Science.
This lecture is scheduled to be webcast live on Twitter and WBNL.
Brookhaven Lab is located on William Floyd Parkway, one-and-a-half miles north of Exit 68 of the Long Island Expressway. Maps
2019-16695 | INT/EXT | Newsroom