William Floyd HS Students Build LI Champion Robot
(With some help from BNL friends)
April 14, 2009
A William Floyd High School (WFHS) student team, Team 287, with help from teachers Joseph Carpinone and Matt VanHorne and members of BNL's Instrumentation Division, won first place in the 2009 FIRST (For Inspiration and Recognition of Science and Technology) Robotic Competition of Long Island.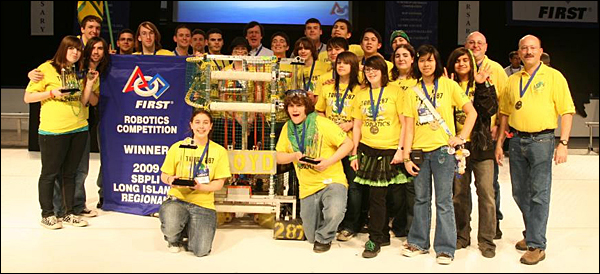 William Floyd High School's winning Robot Team 287, with mentors
The FIRST Robotics Competitions are part of a nationwide effort to team professionals and young people to solve engineering design problems in a competitive way. The students are told what the robot must do with certain specifications, such as the building materials and control system. Then, in six weeks, they must have designed and built it and sent it off to the contest location at Hofstra University. This year, operating on a very slick surface, the robot had to be able to pick up circular objects, then chase after an opposing robot and throw the object into the trailer behind it. The winning robot alliance is the team with the most scored points in their opponent's trailers.
Said Jack Fried, an engineer in Instrumentation, who for many years has worked with WFHS students to build their annual FIRST entry, "The idea of this contest is not only for the students to learn engineering by building a robot, but also to learn to work with professional engineers, scientists, and machinists. Each team is sponsored by different organizations -- such as NASA, Motorola and, in our part of the world, BNL."
This year, outside funding was short, and the students themselves earned the money to enter the competition. Patchogue-Medford High School, another FIRST competitor, shared their facilities where the robots could be built.
Said Carpinone, "Our school is extremely grateful for Patchogue-Medford's generosity, which was what made it possible for us to complete our robot within the given time restraints Special thanks go to Kevin Ray, the mentor of team 329."
In making the robot, Fried, with some help from machinist Bill King, also of Instrumentation, worked with the students in specialized areas of effort.
"I advised and helped them mostly with the electrical and wiring needs, and Bill assisted with the machining end," said Fried. "It was an incredibly hectic six weeks to get it finished, but it definitely was interesting."
On the day of the contest, students from about 50 Long Island high schools were present to compete with their robots.
"The energy in that room would send chills down your spine," recalled King. "It was very exciting, very intense. All the students had worked very hard to get to this point, and when our team turned out to be the winners, it was a great moment."
"I have been in many competitions throughout my life, but never finished on top," added Carpinone. "It was a great feeling, seeing all the kids coming together as a team and bringing home the victory."

A few excerpts from an essay on the WFHS robotics by a team member give a flavor of this program's impact:
". . . Our team, Team 287, has an outstanding level of enthusiasm and has won the Team Spirit award at SBPLI Long Island Competition for the past three years. Robotics gives the true impact of being on a team without needing to be athletic to participate. We welcome all new members with open arms and help find their niche, something that they will excel at while contributing to the team as a whole. . .
Team 287 has made it their primary goal to spread the message and ideals of FIRST robotics. We always open ourselves up for questions among younger students about the program, and helped with our Middle School's fledgling FIRST Lego League program. FIRST Robotics has opened many doors for people who are interested in the fields of technology, engineering, and electronics. Members have a better understanding of how machinery and technology operate and impact our everyday lives. . . .
"Our team has always cooperated with and formed a strong partnership with our sponsor, Brookhaven National Lab. The Lab has helped us build and program our robots since the beginning of our school robotics. . .
This year, the Instrumentation Division was very helpful with the programming aspect, and some machined bushings that made out robot come to life. Also, Team 329 [Patchogue-Medford High School] graciously stepped in and allowed us to use their facilities. At the SBPLI Long Island Competition on, they have cheered alongside us in the stands. We are extremely thankful for their display of gracious professionalism, and assure that if they or any team ever need our assistance, we will assist them as we have been helped in a tough time."
The next excitement will be in Atlanta, Georgia April 15 - 17, when the 300+ regional champions - including some who participate from abroad - will compete for the final international championship. WFHS will be sending 16 team members to join in the fray. BNL wishes our local champs the best of luck.
2009-1171 | INT/EXT | Newsroom