Brookhaven Lab Employee Receives LIBN '30 Under 30' Award
September 22, 2017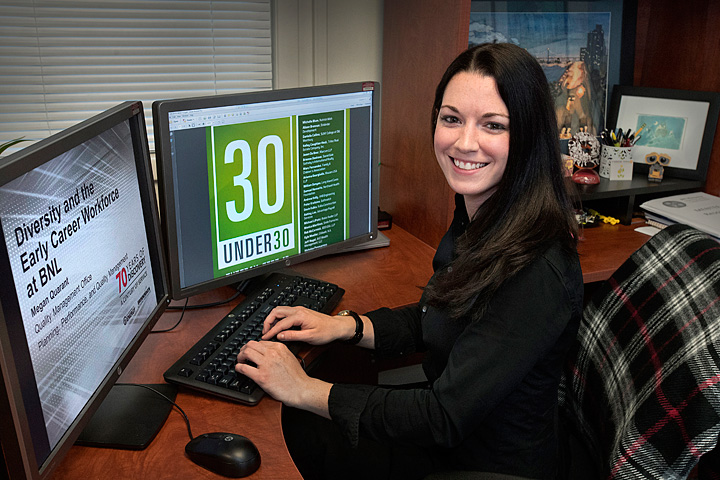 enlarge
Brookhaven quality specialist Megan Quarant has received the "30 under 30 award" from Long Island Business News.
Megan Quarant, a quality specialist at the U.S. Department of Energy's (DOE) Brookhaven National Laboratory, has received the "30 Under 30 Award" from Long Island Business News (LIBN). This prize honors young professionals under the age of 30 who contribute to the Long Island Community through public service, and who have made significant strides in business.
Quarant, 28, is significantly contributing to Brookhaven's effort to increase age diversity at the Lab. With its employees spanning four generations, Brookhaven Lab is a particularly unique workplace; however, the distribution among those age groups is disproportionate, with the average employee age around 52. So in pursuit of diversity—a core value at Brookhaven—Quarant is working with Human Resources' Diversity Office and other organizations to attract younger employees to the Lab.
"Employees between the ages of 20 and 34 only make up about 13 percent of our lab population. Of that 13 percent, only about 25 percent are operational staff," Quarant said. "In the next five to 10 years there's going to be a lot of people who will retire, so I am focused on developing the next generation of people who will advance the Lab's—and DOE's—mission."
Quarant is not only focused on the future of the Lab; she's also strengthening the Long Island community as whole. As Brookhaven's representative for the Long Island Association Young Professionals Committee, Quarant is working with community leaders and businesses to create new opportunities for young professionals on Long Island.
"When you're a young person fresh out of college, especially with a business degree, you don't think of Long Island as your first choice to look for jobs—you think of New York City," Quarant said. "That's something we discuss in our subcommittee, as well as what we can do to make Long Island a more attractive place for young professionals to live and work."
This award-winning endeavor is only a side project for Quarant, whose main role at Brookhaven includes assisting with assessment programs, strategic planning, and creating the Lab Agenda—a yearly tactical plan for Brookhaven. The Agenda includes all of Brookhaven's science and support goals, as well as the Lab's key initiatives, including those that focus on diversity.
"When there's something I'm passionate about, I get really motivated and I tend to just run with it." Quarant said. "I genuinely care about making sure that the Lab is going to have a bright future with people who care about continuing the amazing research that we do."
As a young professional who grew up on Long Island herself, Quarant struggled to secure a job in the place she calls home. Before coming to Brookhaven in 2015, Quarant graduated Summa Cum Laude from Elizabethtown College with a bachelor's degree in elementary education and special education. She spent nearly 10 years working with children, but after facing continuous issues with job security, she knew it was time to search for opportunities in new fields. The options were limited, but fortunately she was recommended by a family member to join the temporary employee pool at Brookhaven. After working for just three months as a temporary employee in the Quality Management Office, she was offered a full-time position.
"My department immediately saw how my educational assessment background could be used at Brookhaven," Quarant said. "Our assessments follow a similar process; we set specific goals and objectives and, once the assessment is conducted, we identify what is working well at the Lab and what we can continue to improve on."
Grateful for the opportunity Brookhaven has given her, Quarant hopes to make Brookhaven more widely-known to young professionals on Long Island.
"If you had told me 10 years ago that I would be working here at Brookhaven, I would not have believed you. But I love it here," Quarant said. "I love the fact that I get to work alongside some of the most brilliant researchers in the whole world."
Quarant's efforts were honored at the 30 Under 30 Awards ceremony on Tuesday, Sep. 12 at the Crescent Beach Club in Bayville, New York.
Brookhaven National Laboratory is supported by the Office of Science of the U.S. Department of Energy. The Office of Science is the single largest supporter of basic research in the physical sciences in the United States, and is working to address some of the most pressing challenges of our time. For more information, please visit science.energy.gov.
Follow @BrookhavenLab on Twitter or find us on Facebook.
2017-12466 | INT/EXT | Newsroom