36 Employees Recognized for Perfect Attendance
April 6, 2018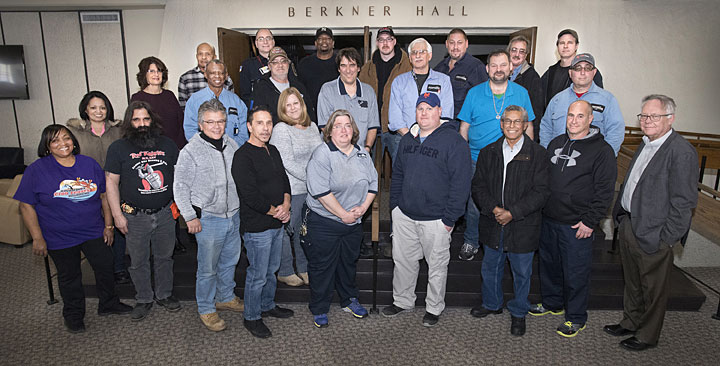 enlarge
Some of the 36 Brookhaven Lab employees who were recognized for perfect attendance records for 2016 at a ceremony with Lab Director Doon Gibbs (right)
Thirty-six Brookhaven Science Associates (BSA) employees at Brookhaven Lab have been honored for their perfect attendance records in 2017. They were recognized at a ceremony held in Berkner on March 15.
Full-time technical and clerical employees paid weekly, and Lab employees represented by the International Brotherhood of Electrical Workers (IBEW) and the Suffolk County Security Police Association are eligible for perfect attendance awards. The Lab presents these awards annually to those who do not use any sick leave during the previous calendar year.
During the ceremony, Lab Director Doon Gibbs presented each awardee with a package containing a $200 check, certificate, and T-shirt.
The BSA staff members recognized for perfect attendance in 2017—noted by the total number of years they have been honored for perfect attendance—are:
22 Years
| | |
| --- | --- |
| Alex Reben | Stakeholder & Community Relations Office |
21 Years
| | |
| --- | --- |
| Dhruba Ghimiray | Operational Support & Planning Division |
| Cornelius Jackson | Stakeholder & Community Relations Office |
18 Years
| | |
| --- | --- |
| Lisa Metz | Guest Services Division |
14 Years
| | |
| --- | --- |
| Charles Whiting | Operational Support & Planning Division |
12 Years
| | |
| --- | --- |
| Peter Realmuto | Operational Support & Planning Division |
11 Years
| | |
| --- | --- |
| Joseph Rubino | Stakeholder & Community Relations Office |
| Maria Singleton | Guest Services Division |
10 Years
| | |
| --- | --- |
| Keith Jackson | Energy & Utilities Division |
8 Years
| | |
| --- | --- |
| Michael Daddi | Production Division |
7 Years
| | |
| --- | --- |
| Shirley Ayers | Guest Services Division |
| Dale Galante | Guest Services Division |
| Robert Skeeter | Guest Services Division |
6 Years
| | |
| --- | --- |
| Daniel Feeley | Energy & Utilities Division |
| Felice Villani | Energy & Utilities Division |
5 Years
| | |
| --- | --- |
| Robert Danowski | Production Division |
| Frank Pomaro | Energy & Utilities Division |
| Thomas Trojanowski | Energy & Utilities Division |
4 Years
| | |
| --- | --- |
| William Anderson | Operational Support & Planning Division |
3 Years
| | |
| --- | --- |
| Michael Cresci | Production Division |
| Anthony DiMauro | Production Division |
2 Years
| | |
| --- | --- |
| Barbara Calle | Production Division |
| Linda Morrell | Biology Department |
| William Nevin | Emergency Services |
| Joseph Nubile | Production Division |
| Kenneth Staufer | Emergency Services |
1 Year
| | |
| --- | --- |
| Charles Baldassarre | Energy & Utilities Division |
| Daniel Brooks | Production Division |
| James Gargano | Production Division |
| Christopher LoPreto | Emergency Services Division |
| Matthew Lorio | Collider-Accelerator Department |
| Barry Lotko | Guest Services Division |
| Barbara Mack | Guest Services Division |
| Brian Mc Clafferty | Energy & Utilities Division |
| Alexandru Radulescu | Guest Services Division |
| Christopher Ruggles | Production Division |
2018-12828 | INT/EXT | Newsroom