Local Historian Bruce Kagan to Deliver BWIS Lecture Thursday, 11/8: 'Fly Girls: The Women Airforce Service Pilots of World War II'
November 1, 2018
By Amber Aponte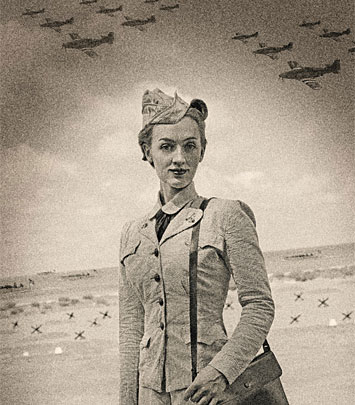 In honor of Veterans Day, Bruce Kagan, retired teacher and local historian, will speak on "Fly Girls: The Women Airforce Service Pilots of World War II" at Brookhaven National Laboratory, in Berkner Hall (Bldg. 488), Thursday, Nov. 8, at noon as part of the Brookhaven Women in Science (BWIS) lecture series.
Add This Event to Your Calendar
The lecture is free and open to the public. Visitors age 16 and over must bring a photo ID.
Join Kagan for this stirring historical presentation on the heroic contributions of the brave young Women Airforce Service Pilots (WASPs)—sometimes also known as Women's Army Service Pilots—who helped the Allies win World War II. These more than one-thousand young women were the first female pilots of U.S. military aircraft; 38 WASP members lost their lives. This fact and the very mention of their contributions were undisclosed by the U.S. Army for more than 30 years following the war.
Kagan will provide an overview of the contributions of "The Fly Girls" (as they called themselves) and how they piloted powerful and dangerous aircraft, simulated strafing missions, and transported cargo. He also will bring to life, through musical components and sing-alongs, how the Fly Girls marched to the mess hall, engaged in rigorous calisthenics, sang songs from their WASP Songbook, and "passed the hat" to scrape up enough money to bury their own.
In 1977, for their service, the members were granted veteran status, and in 2009 awarded the Congressional Gold Medal. The Fly Girls would even create a path for women to become a vital part of NASA's space program.
Kagan has dedicated this program to his father, Henry Kagan, who fought in the South Pacific during World War II. It was in the exploration of his father's war effort that he became aware of the Fly Girls.
A retired teacher, musician, and local historian, Kagan creates engaging digital presentations on various topics such as such as kayaking the Erie Canal and historical milestones.
Note, this presentation includes descriptions and some images of war.
2018-13203 | INT/EXT | Newsroom