BNL summer intern travels to Australia to meet with, assist Aborigines
August 4, 2009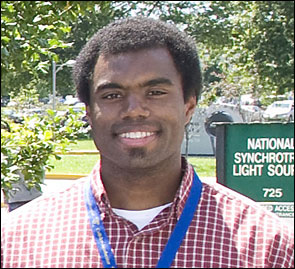 Victor Williamson
Victor Williamson is an intern spending his second summer at BNL. With his mentor Jonathan Laster, Collider-Accelerator Department, he has been busy this summer developing software to examine post-mortem data at RHIC. In June, however, Williamson found the time to make the long trek to Australia to spend three weeks working with the Australia Global Project, a team of African American and Native American graduates who meet with and aid some of the Aborigines, the indigenous people of Australia.
Williamson and 12 other graduate students and professionals traveled to Mount Druitt, a small town outside Sydney, New South Wales, where they met with a group of Aborigine residents and discussed issues such as health care, education, nutrition, and economic struggles.
"This was a great cross-cultural experience," said Williamson. "The team immersed itself in Australian and Aboriginal culture which included eating kangaroo, shark, oyster and chip sandwiches, participating in morning, midday and evening tea time, learning 'No worries,' 'G'day mate' and other dialectal phrases. We also attended a rugby league match, participated in Aboriginal community events, and took photos of wild emu, kangaroo, cockatoos and crows that made sounds similar to bleating sheep. We taught the indigenous community African American heritage and sang old Negro spirituals like 'Swing Low, Sweet Chariot.' The team also sang 'Lift Every Voice and Sing,' known as the Black National Anthem, to express the faith and hope of the African American struggle."
In September, Williamson will return to the Massachusetts Institute of Technology, where he is pursuing his master's degree in engineering.
Read a brief narrative on Williamson's experience (PDF).
More information on the Australia Project.
2009-1353 | INT/EXT | Newsroom