BSA Noon Recital, 9/16
Pianist William McNally To Play Classics and Rags
September 16, 2009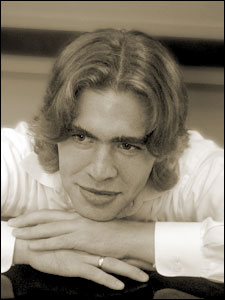 enlarge
Pianist William McNally
The BSA Noon Recital to be held in Berkner Hall on Wednesday, September 16, will feature pianist William McNally — a multifaceted musician who will perform works by Beethoven, Bach, Medtner and Hamelin, as well as a selection of ragtime pieces. BSA Noon Recitals are free and open to the public. Visitors to the Lab age 16 and over must show photo ID at the BNL gate.
This year, for the second time, McNally won the New Rag Contest at the Old-Time Music Contest in Peoria. His recently released ragtime CD includes classic rags as well as his own compositions.
McNally performed for the first time in Carnegie Hall's Weill Recital Hall shortly after his ninth birthday, as a winner of the AMSA World Piano Competition; he has since played there twice more, once in Stern Auditorium as principal bassist of the Mt. Lebanon H.S. Orchestra, and once again in Weill Hall in a solo piano recital as winner of the Artists International competition. While still a high school student, he wrote a new rag that won a first prize in Pennsylvania and finalist placement in the PTSA national arts competition, where there were nearly 30,000 contestants in the musical composition field alone.
Currently, McNally serves as an adjunct professor of piano and staff accompanist at Temple University, as well as being an associate staff member at the Settlement Music School. In the fall of 2009 he will pursue a doctorate of musical arts at the City University of New York's Graduate Center as a recipient of an enhanced Chancellor's Fellowship.
2009-1413 | INT/EXT | Newsroom