In Memoriam: Humberto Palacios
January 16, 2019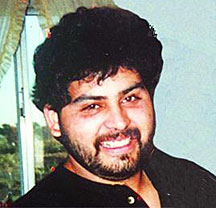 Humberto "Bert" Palacios Jr.
Humberto "Bert" Palacios Jr., of the Collider-Accelerator Department, died Sept. 25, 2018. He was 60 years old.
Palacios first came to Brookhaven Lab as a guest mechanical technician in June 1987, and during the next three decades he made his mark in the Collider-Accelerator Division (C-AD). In 1996 he joined the C-AD Electronics Power Supply Group, then later was a part of the Radio Frequency and Beam Instrumentation groups. Along the way he assumed roles of increasing responsibility and complexity.
"Bert was a pleasure to work with, and a really inspiring guy," said his supervisor, Dan Lehn. "He earned the respect of his coworkers for his great attention to detail in all his job assignments."
Lehn said Palacios was an integral group member, and helped them to achieve many of the department's operational milestones, such as their successful work on the Low-Energy RHIC electron Cooling (LEReC) and Coherent Electron Cooling (CeC) projects.
Lehn noted that Palacios maintained a positive outlook in all situations.
"He kept an upbeat attitude all the way through," Lehn said. "He inspired the rest of us. And we really miss him."
Palacios was born in The Bronx, New York. His parents, Humberto Palacios Sr. and Irma Croteau, moved the family to Suffolk County, Long Island, and in 1976 he graduated from Brentwood High School. Before working at Brookhaven Lab, he served in the U.S. Marine Corps.
According to his sister Cynthia Aquadro, Palacios enjoyed collectibles, classic movies, and building models.
He is survived by his parents, his sons Daniel, Kenneth, and Erik, and his sister Cynthia, as well as grandchildren, nieces, and nephews.
2019-14330 | INT/EXT | Newsroom