Three Brookhaven Scientists Named Highly Cited Researchers
The Global Highly Cited Researchers List recognizes scientists as some of the most influential members of their fields
February 5, 2019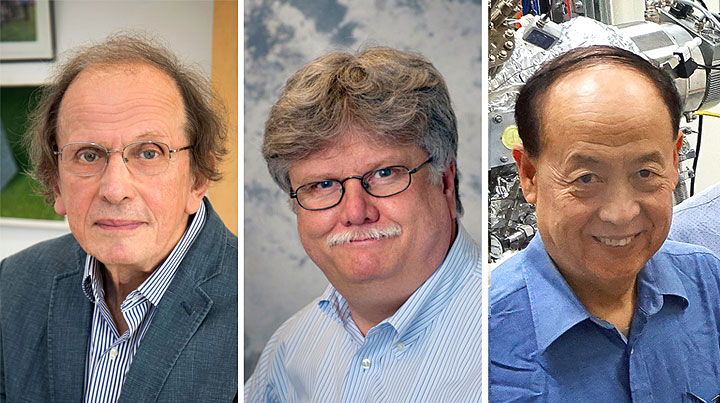 Three scientists from the U.S. Department of Energy's (DOE) Brookhaven National Laboratory have been named to the 2018 Highly Cited Researchers List, which recognizes influential researchers whose work ranks in the top one percent of the world's most-cited scientific papers. Brookhaven's Radoslav Adzic, Mark Hybertsen, and Xiao-Qing Yang are among only 4,000 researchers from around the world whom achieved the distinction in 2018.
"Having three of our scientists recognized as highly cited is a great accomplishment for the Laboratory," said Robert Tribble, Deputy Director for Science and Technology at Brookhaven. "This achievement speaks to the global impact of Brookhaven's transformative research on energy science and technology."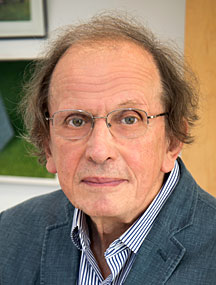 Radoslav Adzic
Radoslav Adzic, now a senior scientist emeritus, first joined the Lab in 1992. He also served as the leader of the Surface Electrochemistry and Electrocatalysis group in Brookhaven's Chemistry Division for a decade, retiring in 2017. During his time at Brookhaven, Adzic researched electrocatalysis for fuel cells that produce electricity—with the only byproducts being water and heat—and pioneered several concepts to improve the performance, durability, and efficiency of fuel cells.
"My research helped to establish the critical role of top layer of surface atoms in electrocatalytic reactions," Adzic said. "Such work from my group has led to the development of a new class of electrocatalysts that consist of a single layer of platinum atoms on a nanoparticle support. The unique properties of these electrocatalysts improved the performance of fuel cells and helped develop core-shell electrocatalysts. Seeing the ramifications of this concept and opening new areas of electrocatalysis research has been a very gratifying experience for me."
Adzic has authored or co-authored more than 300 publications that have been cited more than 20,000 times.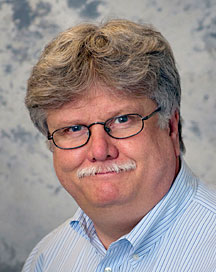 Mark Hybertsen
Mark Hybertsen joined the Lab in 2006 and he is the leader of the Theory and Computation Group at Brookhaven's Center for Functional Nanomaterials (CFN)—a DOE Office of Science User Facility. He and his team at CFN investigate the properties of nanostructured materials. Hybertsen is best known for pioneering research in many-body perturbation theory as a practical approach to compute the electronic properties of materials from first principles and, more recently, to gain a fundamental understanding of electronic conduction through molecules in nanoscale junctions.
"For each material system that I investigate, I seek to understand the structure of the material at the atomic scale and how that structure leads to specific properties, such as whether the material absorbs light efficiently or the degree to which the material conducts electrical current," Hybertsen said. "Helping researchers at CFN unravel the physical picture that explains their experiments is incredibly exciting."
Hybertsen has authored or co-authored 166 publications that have been cited more than 19,000 times. He was also recognized as a highly cited researcher in 2017.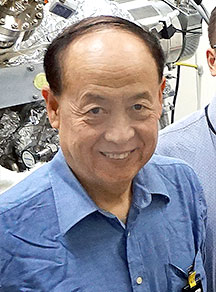 Xiao-Qing Yang
Xiao-Qing Yang has been a physicist at Brookhaven since 1993. In 2005, he was also named the group leader of the Electrochemical Energy Storage Research Group in the Lab's Chemistry Division. Yang's work is focused on electrochemical energy storage systems and materials, such as lithium and sodium batteries and electrochemical super-capacitors, as well as cathode, anode, and electrolyte materials for these systems. He is well-known for developing and applying synchrotron-based research techniques to study battery materials.
"My goal is to design and synthesize new high-energy materials with improved power density, longer cycle and calendar lives, and good safety characteristics," Yang said. "I develop and apply characterization and diagnostic techniques to obtain an in-depth, fundamental understanding of the relationship between the structure and the performance of battery systems, and to provide guidance and approaches to design and synthesize new materials."
Yang has authored or coauthored more than 300 publications that have been cited nearly 16,000 times. This is his first time being recognized as a highly-cited researcher.
Brookhaven National Laboratory is supported by the Office of Science of the U.S. Department of Energy. The Office of Science is the single largest supporter of basic research in the physical sciences in the United States, and is working to address some of the most pressing challenges of our time. For more information, please visit science.energy.gov.
Follow @BrookhavenLab on Twitter or find us on Facebook.
2019-14338 | INT/EXT | Newsroom