BNL Art & Crafts Show
November 18, 2009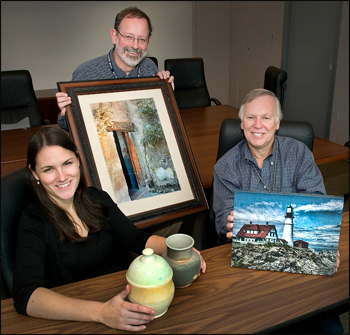 From left, Tiffany Bowman, Mark Parsons, and Lloyd Nelson show some of their works that will be displayed at the upcoming Art and Crafts Show.
Come see a different creative side of the people of the BNL community at the annual Art and Crafts Show, which opens November 23. Among the exhibits will be work by Tiffany Bowman, Lloyd Nelson, and Mark Parsons.
One of the Lab's graphic designers in the Community, Education, Government, and Public Affairs Directorate, Tiffany Bowman earned a bachelor's degree in pottery and ceramics.
"Pottery gives me a chance to get my hands dirty, and I like the unpredictability of how a piece will look after it comes out of the kiln," Bowman explained.
She will display a selection of ceramic pieces she designed, sculpted, and finished.
Lloyd Nelson of DOE's Brookhaven Site Office (BHSO) has an associate degree in art and a bachelor's degree in engineering. While he relies more on the engineering background for his career, his interest in photography has continued.
"Photography is a way to artistically express what I see in nature," said Nelson.
Nelson's photographs will include one of the lighthouse in Portland, Maine.
Mark Parsons, also of the BHSO, is a self-taught photographer, who has been making photographs "on and off" for more than 40 years.
"I like to go places and find the places that people do not take the time to look at. I look for what no one else sees," he said.
One of Parsons' works at the show will be of Mission Carmel in California.
All are invited to attend this free show Monday – Wednesday, November 23 – 25, from 11:45 a.m. – 1:30 p.m. in Berkner Hall Room B. The BNL Art Society, which sponsors the show, will also host an opening reception on November 23 from 5 to 7 p.m.
The show is open to the public, visitors to the Laboratory 16 and older must bring photo ID.
Also during the opening reception, Lab Director Sam Aronson will present two local high school seniors with Discovery Art Prizes for artwork that best illustrates the spirit of scientific discov¬ery. Each award includes a certificate and $250 scholarship. The winners are selected by the BNL Art Society on behalf of Brookhaven Science Associates, the company that manages BNL, from the South Bay Art Association's annual art show in November.
Any BNLers who would like to display their art or crafts should e-mail Bob Chrien chrien@bnl.gov. Refer to page four of the October 23 Bulletin for additional information.
2009-1496 | INT/EXT | Newsroom