Meet Charlie Nielson
He Calls That A Garden?
December 28, 2009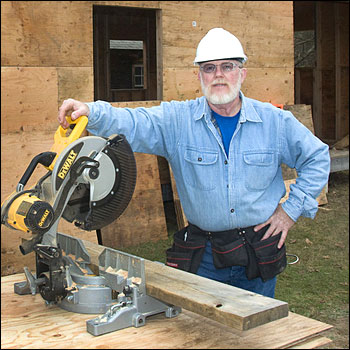 Charlie Nielson
What Charlie Nielson calls a garden would be considered a farm to most. But then again, this technical associate at Brookhaven National Laboratory's National Synchrotron Light Source can cheerfully recall completing projects that would be far too daunting for most others to consider taking on.
Nielson began working at Brookhaven Lab in 1967 as an electronics technician after growing up in Nassau County and serving for four years in the Navy. He moved to Speonk, about 16 miles southeast of the Lab, around that time, and by 1973, he finished building the house where he and his wife Charlotte still reside.
"I was introduced to construction going out with my father as a kid," said Nielson. "During my first years at the Lab, I worked on the electronics for the Lab's bubble chambers in rotating shifts. That gave me enough daylight to build a 2,000-square-foot ranch in only 15 months."
Once the house was completed, Nielson began growing vegetables and fruits. First inspired by his grandparents' farm in Medford, he has planted and grown enough to cover an area 80 feet wide and up to 200 feet deep — 16,000 square feet — nearly every year since, harvesting everything from tomatoes and potatoes to various berries, cabbages, and squash. He has also raised a number of chickens at different times.
All of Nielson's crops are grown organically as he refrains from using chemically formulated fertilizers or pesticides.
"In the fall, I throw all of the leaves and grass clippings into the garden and then till it — good fertilizer comes from that. I also use seaweeds, fish emulsion, and other organic sprays, and rotate the crops," Nielson explained.
Think you or one of your colleagues has a good story to tell? Email us! Although we can't write about everyone, we would love to hear your ideas and suggestions.
2009-1527 | INT/EXT | Newsroom