'Twas the Season for Giving at Brookhaven Lab
January 11, 2010
In lieu of traditional gift swaps, employees in several departments at Brookhaven National Laboratory (BNL) embraced the giving spirit of the holiday season last month.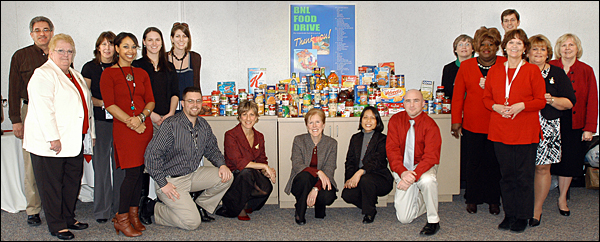 Some of the BNLers from the Community, Education, Government, and Public Affairs Directorate, one of several groups who contributed to the Food Drive at their holiday party.
Staff members of the Collider-Accelerator Department; Business Systems Division; Community, Education, Government, and Public Affairs Directorate; and Light Source Directorate contributed approximately 400 pounds of food for the BNL Food Drive during their annual holiday parties. Nearly $150 was also collected — 100 percent of which will be used to purchase additional food for the food drive.
The BNL Food Drive was started in 1988 in partnership with the American Physical Society to provide food for people in need in the Town of Brookhaven.
In a memo to the many BNL contributors, co-chairs of the BNL Food Drive Linda Rundlett and Linda Greves wrote, "We are pleased and grateful for the recent generous contribution to the BNL Food Drive — it is donations such as this that enable us to help many people in Brookhaven Township, especially those who suffer in silence in our own backyard."
Year round, the BNL Food Drive accepts financial contributions and donations of non-perishable food, such as canned goods, cereal, pasta, soup, sauces, and cookies. Drop-off boxes for food are located in most buildings on site, including the Bldg. 400 lobby and Bldg. 179 near the Mail Room and U.S. Post Office. For more information about the BNL Food Drive, contact Linda Rundlett, Ext. 3333, or Linda Greves, Ext. 3750.
2010-1554 | INT/EXT | Newsroom