Giving Blood: Priceless
Next Lab Blood Drive is Wednesday, 2/17
February 12, 2010
Here is a true story from a BNLer who personally knows that giving blood saves lives:
I left BNL one Friday looking forward to an especially pleasant weekend — my daughter with her new baby was coming to visit. Early on Saturday, my daughter felt very ill and collapsed. I called 911. The local ambulance arrived within minutes and took her to the hospital. A morning of tests showed extreme anemia, and over the next 12 hours, she was given three pints of blood. Two days later, she was able to come home, look after the baby, and even go back to work within another 24 hours. How wonderful that blood was available in the hospital! Who gave that blood? We'll never know, but it was a caring Long Islander, somewhere.
Donating Blood for More Than 50 Years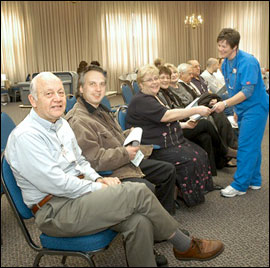 Peter Bond (left), Senior Advisor to the Lab Director, has given blood for more than 50 years.
Here at BNL, people generously give blood — and thus, life. In particular, Peter Bond, Senior Advisor to the Lab Director, has given blood faithfully for as long as he has been at the Lab, and even before that.
"I started as a blood donor about 50 years ago when I was in college," says Bond. "Then I kept it up. Of course, there have been gaps and times when I wasn't able to donate, but I have tried to donate regularly."
Bond joined BNL's Physics Department in 1972 as an assistant physicist. In the following 38 years, he has served the Lab in many roles, ranging from Physics Chair to Interim Lab Director, Deputy Director for Science and Technology, and more — a demanding schedule. But, to this day, he has always found the time to give blood.
"It's not just a question of finding the time, of course," said Bond. "I know that some people are afraid to give blood, which is understandable. They believe it may be painful, which it is not, or that they might feel sick, which is rare, and in those instances there are nurses around who are ready to help. But as anyone who gives regularly knows, there's a satisfaction to helping others in this way. It's worth the effort."
As Bond knows personally, the need for more donors is even greater now, because there are more restrictions on donors than there used to be. For example, taking certain medications and a visit to Europe several years back delayed his being able to give blood until those restrictions no longer applied.
The many acknowledgements Bond has earned over the years as a constant blood donor are a reminder of the many unknown people who are alive because of the efforts of donors like him. If you can, please add a pint of your blood to the Long Island Blood Bank supply. When it's needed, nothing else will do.
BNL Blood Drive, 2/17
BNL's next blood drive will be held on Wednesday, February 17, 9:30 a.m.-3 p.m. in the Brookhaven Center. Donors must be 17 to 75 years of age, in good health and weigh over 110 lbs. Restrictions may apply to some from the UK and Europe. Donors should have a photo ID and know their social security number. Schedule an appointment online.
2010-1627 | INT/EXT | Newsroom