State Grant to Fund Advanced Battery Materials Partnership
March 15, 2010
Funded by a $550,000 grant from the New York State Energy Research and Development Authority (NYSERDA), Brookhaven National Laboratory will partner with battery materials researchers from leading New York State universities to explore new chemistries and synthesize new materials for long-lasting batteries.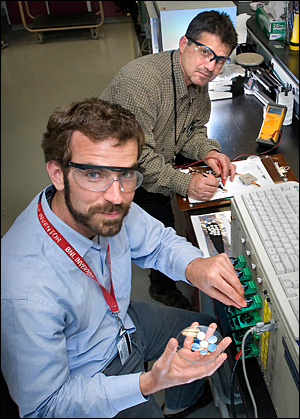 enlarge
Jason Graetz (front)
The Laboratory will partner with SUNY's University at Buffalo and Binghamton University on three projects to develop improved batteries for use in stationary grid-scale energy storage applications, including lithium-air, lithium-ion, and lithium-titanate batteries. The Brookhaven effort, led by Brookhaven materials scientist Jason Graetz, will focus on the development and synthesis of new materials, and application of advanced experimental techniques to characterize these materials using Brookhaven's National Synchrotron Light Source (NSLS). The SUNY-Buffalo lead is Esther S. Takeuchi, and the Binghamton University lead is M. Stanley Whittingham.
"This partnership among Brookhaven and two leading SUNY schools will capitalize on the research strengths of each, and our materials characterization capabilities will be a key element of the project," said James Misewich, Brookhaven's Associate Laboratory Director for Basic Energy Sciences.
The collaboration grew out of a workshop sponsored by Brookhaven and Stony Brook University's Joint Photon Sciences Institute (JPSI) last spring. Chi-Chang Kao, NSLS Chair and Founding Director of JPSI, coordinated the collaboration's successful proposal. "It is an excellent example of how universities, industries, and national laboratories can work together to address an important scientific challenge with major societal impact," said Kao.
Said Graetz: "NYSERDA's funding of this program will give us the opportunity to expand our energy storage research to large-scale stationary energy storage systems, which are crucial for integrating intermittent renewable generation sources such as wind and solar. In the past, the vast majority of battery research investment has focused on the important problem of electrical energy storage for transportation. However, a different set of criteria exist for stationary systems, and this project will allow us to explore new electrode materials, like lithium titanate, that meet those criteria."
Brookhaven will receive $200,000 over two years for its part of the project.
For more information on the NYSERDA grant, see the NYSERDA press release.
2010-1663 | INT/EXT | Newsroom