BWIS Talk 8/15: She Wins – We Win: The Criticality of Supporting Women in STEM and Innovation
August 5, 2019
By Amber Aponte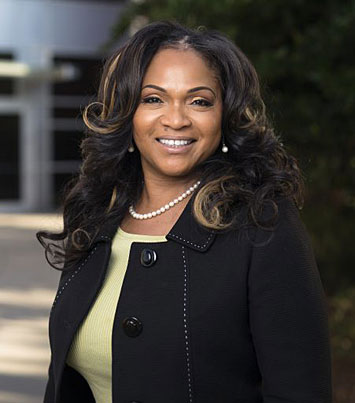 enlarge
Pamela McCauley
Pamela McCauley, Professor and Director of the Ergonomics Laboratory in the Department of Industrial Engineering and Management Systems at the University of Central Florida, where she leads the Human Factors and Ergonomics in Disaster Management Research Team, will give a talk, "She Wins – We Win: The Criticality of Supporting Women in STEM and Innovation," at Brookhaven Lab in the Physics Large Seminar Room (Bldg. 510), on Thursday, Aug. 15, at 4 p.m. as part of the Brookhaven Women in Science (BWIS) lecture series.
Add This Event to Your Calendar
The lecture is free and open to the public. Visitors age 16 and over must bring a photo ID.
McCauley will discuss the critical need to support women in their careers in the science, technology, engineering, and math (STEM) fields and innovation opportunities on a global level. As she will explain, the impact of improving STEM education and career opportunities for women is an issue of national importance and is impacting America's innovation potential, national security, and global position as a leader in innovation. Dr. McCauley will share scholarly literature and strategies from her book, Transforming Your STEM Career Through Leadership and Innovation: Inspiration and Strategies for Women, published in 2013 by Elsevier, as well as organizational best practices and examples from her personal experience regarding key points where the support of others, particularly women, were pivotal in her career.
An award-winning university educator and an internationally recognized industrial engineering researcher in the development of mathematical models, human engineering, and engineering leadership, McCauley is also the Program Director of the National Science Foundation's (NSF) I-Corps Program, as well as a National Governing Board Member of the American Women in Science. In these roles, McCauley is passionate about encouraging women and under-represented minorities to pursue and thrive in their STEM careers.
She is the author of over 100 technical papers, book chapters, conference proceedings and the best-selling international ergonomics textbook, Ergonomics: Foundational Principles, Applications, and Technologies. McCauley was recently named the 2019 Technologist of the Year by Women of Color Magazine.
Upon completing her bachelor's degree from the University of Oklahoma, McCauley was awarded a NSF fellowship and soon after earned a graduate degree (M.S.) and in 1993 became the first African-American woman to earn a Doctorate in Engineering in the state of Oklahoma.
2019-16700 | INT/EXT | Newsroom