Brookhaven Science Associates (BSA) granted tenure effective December 1, 2009 to eight BNL scientists. They are Mei Bai, Collider-Accelerator Department; Alexander Bazilevsky, Physics Department; Richard Ferrieri, Medical Department; David Jaffe, Physics Department; Ferdinand Willeke, National Synchrotron Light Source II; Guangyong Xu, Condensed Matter Physics & Materials Science Department; Hua-Gen Yu, Chemistry Department; and Anatoli Zelenski, Collider-Accelerator Department. Tenure appointments are granted by action of the BSA Board after a rigorous selection procedure overseen by the BSA Science & Technology Steering Committee. In making tenure decisions, the BSA Board is advised by members of the Brookhaven Council, an elected body that advises the Director on matters affecting the scientific staff. Newly tenured scientists will be featured on Brookhaven's website in alphabetical order in the coming weeks. The stories below summarize the contributions of Bai and Bazilevsky.
Mei Bai and Alexander Bazilevsky Granted Tenure
April 26, 2010
Mei Bai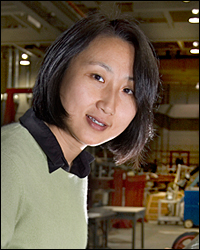 Mei Bai
Mei Bai, a physicist in the Collider-Accelerator Department (C-AD), was awarded tenure for her outstanding scientific achievements and contributions to BNL's mission in designing, constructing, and operating complex user facilities. In particular, she has made unique improvements to the spin physics program at the Relativistic Heavy Ion Collider (RHIC), beginning with a successful, novel technique that she designed for the Alternating Gradient Synchrotron during her graduate school career.
After earning her Ph.D. at Indiana University in 1999 with a thesis on "Overcoming intrinsic spin resonance by using an RF dipole," that won her the American Physical Society Division of Particles and Beams' "Outstanding Doctoral Thesis Award," Bai joined the Lab that year as a research associate on the RHIC project. She accepted an associate scientist position in 2001 and was promoted to scientist in 2005.
"Mei is recognized worldwide for her innovative contributions to the field of spin accelerator physics as well as her experimental work on non-linear beam dynamics," said Derek Lowenstein, former C-AD Chair. "Additionally, she has been an excellent leader in her role as run coordinator for RHIC and has developed important accelerator applications and performance improvements."
The Asian Committee for Future Accelerators and the organizing committee of the 2010 First International Particle Accelerator Conference (IPAC'10) recently awarded Bai an early career prize by for her significant and original contributions to the field of accelerator research.
Bai has also made significant contributions to Brookhaven's mission through her role as the RHIC polarized proton run coordinator in 2004, 2005 and 2009, a position in which she was responsible for developing and implementing plans for commissioning new program aspects and continuing performance improvements.
Alexander Bazilevsky
Alexander Bazilevsky
Alexander (Sasha) Bazilevsky, a physicist in the Physics Department, received tenure for his significant contributions to understanding quantum chromodynamics (QCD) phenomena in high-energy heavy ion collisions, and for his leadership in exploring the origins of nucleon spin through precision measurements of polarized proton collisions at the Relativistic Heavy Ion Collider (RHIC).
Bazilevsky received his Ph.D. in 1999 at the Institute for High Energy Physics (IHEP), in Protvino, Russia, for his work on a novel electromagnetic calorimeter for the PHENIX detector at RHIC. He then came to BNL as a research associate in the RIKEN BNL Research Center (RBRC), becoming an RBRC fellow in 2002 and joining the BNL staff in 2003, working as a member of the RHIC PHENIX collaboration throughout.
"Among his many contributions, Sasha has played a central role in two of the most important, fundamental outcomes of the RHIC experiments," said Tom Ludlam, Physics Chair. "One was the discovery of a dense final-state medium consistent with quark-gluon plasma in the theory of QCD. Also, he took the lead in making a seminal measurement that allows direct confrontation of QCD theory with experimental measurements in heavy ion and polarized proton collisions by confirming the validity, at RHIC energies, of 'perturbative' approximations to QCD theory that allow meaningful predictions to be calculated. His scientific accomplishments and record of leadership in the RHIC program fully warrant his promotion to tenure."
Bazilevsky's high standing among his peers in the field is indicated by the large number of high-profile invited talks that he has given worldwide. He is a principal co-author on 11 PHENIX papers and has also effectively mentored five Ph.D. students and other young researchers.
2010-1732 | INT/EXT | Newsroom