Meet Sidra Zia and Welcome Her Back to Brookhaven Lab
Zia returned from fellowship with new nuclear nonproliferation policy know-how
March 5, 2021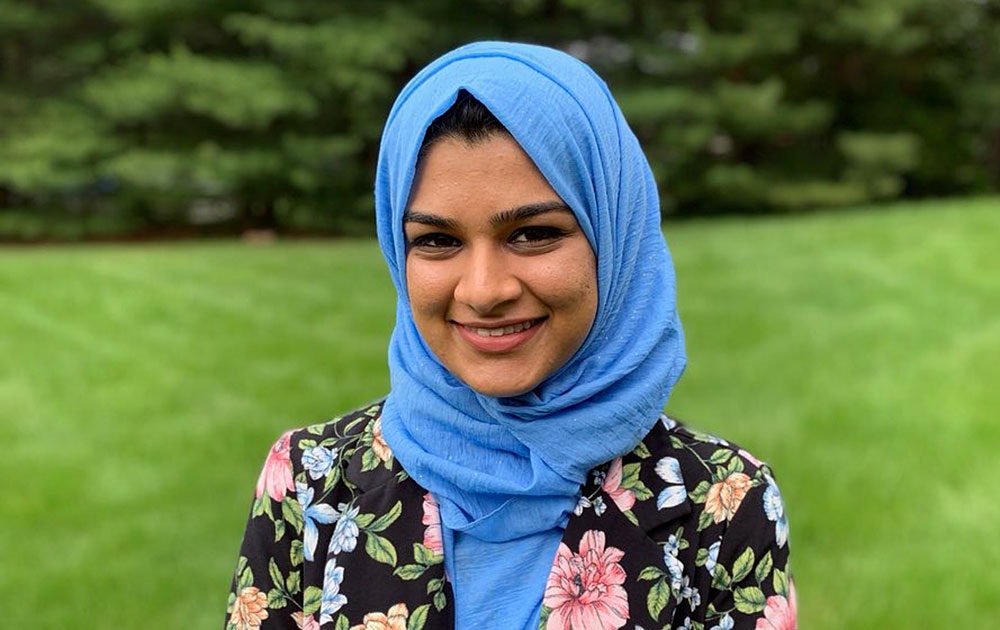 enlarge
Sidra Zia
Sidra Zia started a full-time position at the U.S. Department of Energy's (DOE) Brookhaven National Laboratory in December 2018. Soon after, she was accepted for a prestigious fellowship, sponsored by DOE's National Nuclear Security Administration (NNSA) and run by Pacific Northwest National Laboratory.
After taking a leave of absence to complete the one-year NNSA Nonproliferation Graduate Fellowship Program (NGFP), Zia is back at Brookhaven as an associate staff engineer in the Lab's Nonproliferation and National Security Department.
"It feels like home," said Zia, who returned to Brookhaven in August. "I've never worked with a group of people who are as understanding and genuinely kind as those in my department and my supervisors."
While Zia Was Away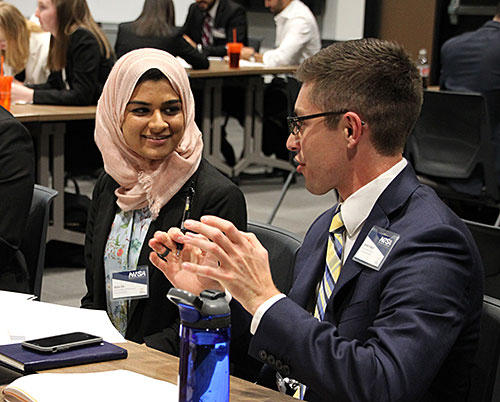 enlarge
Sidra Zia, left, at orientation for her fellowship held at the U.S. Department of Energy's Pacific Northwest National Laboratory in summer 2019. Image credit: Maren Disney, Pacific Northwest National Laboratory.
NNSA aims to prevent the spread of nuclear weapons and control nuclear and radiological materials which, if in the wrong hands, could pose a serious threat. The Nonproliferation and National Security Department, where Zia now works at Brookhaven, supports the NNSA's and other sponsors' nuclear security and safeguards efforts.
"While I understood it was a risk to encourage Sidra to take the assignment at NNSA because she could have been hired elsewhere afterward, I knew that it was a tremendous opportunity for her and that the experience she would get during the assignment would be very valuable to Brookhaven upon her return," said Susan Pepper, chair of the Lab's Nonproliferation & National Security Department. "In addition to her work in radiological security, she also took advantage of a new NNSA Aspiring Leader Program that was offered to the fellows. She was one of only 14 fellows who completed the program and earned a certificate from NNSA. Sidra has a great future at Brookhaven, and I am so happy that she is working with us again."
As one of about 60 NNSA NGFP fellows, Zia found herself in a post with the DOE Office of Radiological Security (ORS) in Washington, D.C. ORS works with government agencies, law enforcement, and businesses around the world to protect, remove, and reduce radioactive sources. Those sources include radioisotopes used for medical and research purposes.
Zia coordinated relationships with ORS partners and helped to forge new ones. She helped improve training offered to partners. She also worked on ORS's China portfolio.
On one project, Zia helped manage cooperation and communication between NNSA and China's Ministry of Ecology and Environment for an important meeting in December 2019. That experience, in particular, taught her the importance of navigating complex and dynamic relationships with foreign partners, she said.
Overall, Zia said she got a further glimpse into how NNSA serves a wide range of stakeholders in government, research, and beyond in a field that is relatively novel and rapidly evolving.
"Experiencing how other labs work with NNSA really helped me understand what exactly its mission is in a way that's invaluable to my position at Brookhaven," she said.
Back at Brookhaven
Zia brings her experiences at ORS and knowledge of radiological security into focus day by day in Brookhaven's Nonproliferation Policy and Implementation Group, supporting U.S. nuclear safeguards policies.
Among her responsibilities, Zia manages projects aimed at learning how the Lab can help stakeholders in government and elsewhere to develop policy and nonproliferation recommendations.
One certainly doesn't have to convince others why nuclear nonproliferation is imperative in today's rapidly evolving world.
Sidra Zia
Zia is working on a key project for ORS, examining how the lessons that were learned at a recent radiological accident in Seattle can inform ORS programs and policies to prevent similar accidents from occurring in the future.
Zia also just helped Brookhaven win a major project with ORS. Some radioactive sources used for medical, industrial, and research applications may also be objects of desire to those with nefarious intentions. For this new project, Zia and her colleagues will help identify hurdles that researchers face in in transitioning to alternative sources of radiation, including x-rays, for those peaceful applications. Widespread use of alternatives could help reduce reliance on radioactive materials that may also be used for malicious purposes, such as creating radiological dispersal devices, also known as "dirty bombs."
In addition, Zia is working on a project to help determine ways to improve the International Atomic Energy Agency's Physical Model, which informs their safeguards activities.
"It's a very wide scope, which is what I like and part of why I decided to come back to Brookhaven," Zia said.
Zia holds a master's degree in health physics from Georgetown University with a specialization in nuclear nonproliferation and a bachelor's degree in physics and philosophy from Rutgers University. With an education including different fields, Zia knew she wanted to merge them somehow.
Zia interned with the Nonproliferation and National Security Department at Brookhaven in 2018 through the Graduate Research Internship Program (GRIP). Later that year, she joined the Radiological Control Division as a full-time employee and learned about accelerator health physics and radiation protection before transitioning to Nonproliferation and National Security.
In the nonproliferation field, Zia found that she could make a difference in the world by taking her technical background in physics and applying it to inform policymakers.
"Early on, it became evident to me that safeguards and nonproliferation was at the intersection of international affairs, politics, and science," Zia said. "This field gives me the unique opportunity to blend my interests into a fruitful career. One certainly doesn't have to convince others why nuclear nonproliferation is imperative in today's rapidly evolving world."
Brookhaven National Laboratory is supported by the U.S. Department of Energy's Office of Science. The Office of Science is the single largest supporter of basic research in the physical sciences in the United States and is working to address some of the most pressing challenges of our time. For more information, visit https://energy.gov/science.
Follow @BrookhavenLab on Twitter or find us on Facebook.
2021-17655 | INT/EXT | Newsroom