Deputy Energy Secretary Daniel Poneman Announces Extra $28 Million for Cleanup, Urges All Staff to 'Own' Lab's Mission
June 3, 2010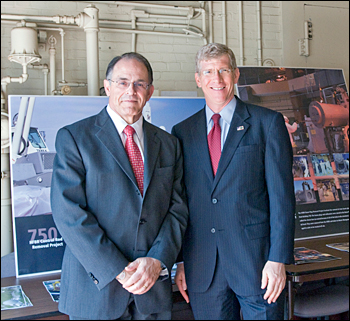 Lab Director Sam Aronson (left) with U.S. Department of Energy Deputy Secretary Daniel Poneman who visited BNL on June 1 to announce an additional $28 million in Recovery Act funding to accelerate cleanup projects at the Lab, including cleanup at the Brookhaven Graphite Research Reactor.
On Tuesday, June 1, at an all-hands meeting during his first visit to Brookhaven, Deputy Energy Secretary Daniel Poneman made a major announcement regarding funding for cleanup of the Lab's Graphite Research Reactor (BGRR).
Stating that "we have a moral duty" to remediate the environmental impacts of the Lab's legacy nuclear research, Poneman said that an additional $28 million in American Recovery and Reinvestment Act funding has been earmarked to finish the BGRR cleanup by September 30, 2011. Last year, Brookhaven received approximately $30.5 million to accelerate the decommissioning of the reactor, which operated from 1950 to 1968, producing neutrons for a wide range of research — from materials science to radioisotopes for medical use.
The first speaker was U.S. Representative Tim Bishop of the First Congressional District, a longtime supporter of the Lab in both scientific and environmental cleanup endeavors. "With this additional Recovery Act money provided by the Department of Energy," said Bishop, "we are well on the way to seeing this Lab is fully funded" to complete the cleanup.
Poneman stressed the importance of focusing on the DOE mission – including advancing energy research, addressing climate change, promoting national security, and understanding the universe – while being good stewards of taxpayer resources. To further these efforts, he advised both transparency – "If you can't measure it, you can't manage it" – and careful project management, with particular attention to issues of budget, safety and security.
"The mission should dominate," he said, "but people on the support side of the Lab also have to be able to own the mission."
He illustrated his point by telling the story of three bricklayers with different ways of describing their jobs: one said he was building a wall, another said he was trying to become the world's best bricklayer. The third said he was building a cathedral, which is how Poneman advised all Brookhaven employees to view their jobs.
His remarks were particularly relevant to BNL given its recent focus on the Blueprint initiative and its "One Lab" approach. In his speech of thanks for the new funding, Lab Director Sam Aronson drew attention to the Deputy Energy Secretary's views on the importance of a unified goal.
"The Lab's Blueprint, with its concept of 'One Laboratory,' is about the importance of everyone's owning the mission of the Lab and contributing their piece," Aronson said.
Other distinguished guests present included Cynthia Anderson, Director of the Environmental Management Recovery Act Program for DOE's Office of Environmental Management and Michael Harrison, Long Island Regional Director for Governor Paterson.
Before announcing the additional funding at the all-hands meeting, Poneman had toured several Lab facilities where he talked with employees and learned at first hand some of BNL's research highlights.
"Brookhaven Lab is a national treasure," Poneman concluded, "and the work you all do is incredible, from the most practical issues to the most esoteric questions – it's all happening here."
Following the all-hands and a media session, Poneman toured the BGRR to see the work that's been accomplished to date and what remains to be completed.
2010-1817 | INT/EXT | Newsroom