Symposium Speakers Stress Creativity and Collaboration to Communicate Science
July 7, 2010
Note: Videos of the speaker presentations described here are available on the NUFO website.
Education and outreach were given equal time at a recent symposium at Brookhaven Lab, sponsored by the National User Facilities Organization (NUFO) as part of its three-day annual meeting. Although speakers agreed that there are challenges to be met in both areas, the good news is that there are plenty of opportunities for young people seeking formal training in the sciences and anyone in search of a better understanding of scientific issues and advances.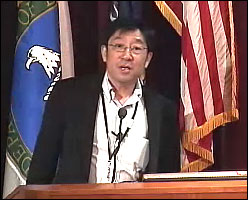 Chi-Chang Kao
Welcoming participants, National Synchrotron Light Source (NSLS) Chair Chi-Chang Kao pointed out that while we don't expect all high school students to pursue science careers, the entire nation will benefit from more science literacy and in the process, future scientists and engineers can get a head start.
"If they are interested in science, we want to supply the best possible opportunity for the best and brightest kids to get ahead, before they enter college," he said.
Scott Bronson of BNL's Office of Educational Programs (OEP), which organized the program, gave an overview of the challenges his office and others like it across the country will face in building the science and technology workforce of the future.
"For our country to be competitive, we must have a scientifically literate public, and we also need to replace our aging scientists," he said. "We need to start making things in this country again. The zeroing of budgets for science education in the 1980s had a huge impact, but the outlook is improving. Collaboration is the way it will get done, but we must complement one another and not duplicate efforts."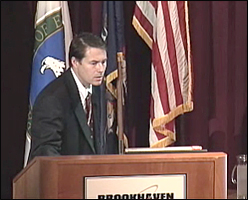 Scott Bronson
Noting that "teachers need confidence," Bronson detailed some of the programs designed to train both teachers and scientists funded by the Department of Energy's (DOE) Office of Workforce Development. Funding from Brookhaven Science Associates (BSA) operates the Science Learning Center at Brookhaven, where students in first through sixth grades are introduced to the Relativistic Heavy Ion Collider (RHIC), NSLS, and the National Space Radiation Laboratory.
New York State's Boards of Cooperative Educational Services (BOCES) also play a role, offering field trips, hands-on lab experiences, and middle and high school exploration labs in a variety of disciplines that could lead to science, technology, engineering, and math (STEM) careers.
"Many people think that middle school students can't get this stuff but they can," said Bronson, "just ask the scientists who work with them. These are very bright kids, working at college level. One or two will co-author a paper. They are pretty sophisticated."
Bronson said the plethora of programs at all levels is designed to address the problem of the so-called "leaky pass way" that can allow some of the brightest students to turn away from science in favor of other careers.
Another big challenge is lack of teaching space in facilities, which can also be dangerous for younger or untrained students. This gave rise to the notion of cyber-enabled access to user facilities, which Brookhaven scientist Keith Jones is using to allow hundreds of Long Island students to use the NSLS to study how oysters take up heavy metals.
The University of Chicago's Tony Lanzarotti, vice chair of the NUFO steering committee, gave more examples of the many types of education programs going on at the NSLS today for students from K-12 to beyond the graduate level, but concentrating on students at the high school level. A workshop titled Bringing Big Science Into The Classroom during last month's NSLS/CFN Users' Meeting attracted more than 100 teachers, who learned how to use the NSLS as a research tool.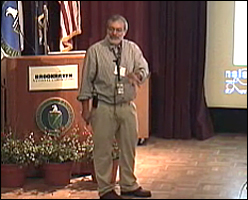 Tony Lanzarotti
"They were able to learn about easily understood tools like synchrotron x-ray microprobes, how to use them remotely, and how to apply them to science projects by focusing bright beams to very small size," he said. "The techniques we chose to highlight require minimal sample preparation. For example, some users looked at human health risks from methyl mercury in fish. You can analyze a single hair of someone who ingested shark meat at a known time and tell how long it takes mercury to get into hair."
Other research using the NSLS examined the environmental hazards of pressure-treated lumber, analyzed dust bunnies to determine the distribution of hazards in a typical home, and pondered possible reasons why children's fingerprints disappear faster than those of adults. The ease of use of synchrotrons is one reason that synchrotron science is part of the curriculum for high school students in the state of Victoria, Australia, where the government funds the program, which teachers are required to use. Here on Long Island, Brookhaven Lab has initiated the DOE-funded Introducing Synchrotrons into the Classroom (InSynC), designed to enable high school teachers and students to gain remote access to synchrotron beam time through a competitive peer-reviewed process.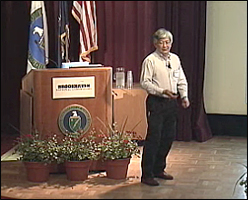 Helio Takai
Brookhaven physicist Helio Takai took a different approach to discussing the education component of the MARIACHI experiment exploring ultra-high-energy cosmic rays in part by deploying shower detectors in high schools. Takai said challenges to this collaboration have included weak interactions between busy scientists, teachers in their very structured careers, and students with high expectations. He said everyone, regardless of their level of interest in science, needs to be exposed to science.
"More and more students are starting research science studies in their first year of high school, "he said. "We can help them increase their science awareness with creativity, and increased use of technology in the classroom. I want students to start thinking about how to ask questions. Scientists have a real opportunity to help educators, and MARIACHI is a meeting place."
Another science education success story is robotics. Paul Gudonis, president of the robotics outreach program FIRST, said the challenge is to inspire innovators in a sports-crazy country by sponsoring a battle of the minds, the "Superbowl of Smarts," in which high school teams compete by designing and building robots. More than 8,000 students have participated, building robots with donated materials.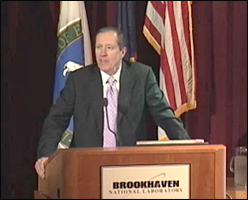 Paul Gudonis
"They say the way to fame and fortune is sports and entertainment," he said. "We must get young people to see that the real rock stars are the scientists."
The program creates robotics teams and gives them each a box of parts like motors and gears, and six weeks to design and build a robot for the competition. "Every weekend in March, there will be a dozen tournaments where the teams are cheered on by thousands of spectators, it's our version of March Madness," he said. The program started in 1992 with 28 teams, now 19,000 teams compete nationwide. Along with the science, the students learn the values of teamwork and gracious competitiveness.
"This is the only sport where everyone can turn pro," Gudonis said. "You get what you celebrate, so we make it as exciting and as cool as sports. Education isn't filling a pail, it's starting a fire."
Kendra Redmond from the American Institute of Physics said the Adopt-a-Physicist program she administers is another way of "supporting the community through a story. We want to share stories of physicists, and connect this community to the high school community. The story is exploration and discovery, testing and feedback. Science is messy and lots of twists and turns happen. In our program, you have to adopt a physicist to take part in their forum but then students can ask any question, moderated by teachers, and engage in conversations with scientists -- that's the powerful part of this program."
In the afternoon session, Dana Topousis of the National Science Foundation (NSF) spoke about the changing science communications landscape.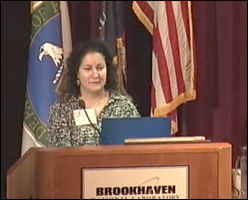 Dana Topousis
"Science reporters have vanished from the mainstream media or are covering health or space," she said, "so we have been trying to identify ways to keep up with the media that's left and develop our own ways to communicate directly with the public."
Some of those methods include partnerships with public information officers and media outlets like U.S. News Online and LiveScience.com, and creating their own media platforms to draw attention to the range of research NSF funds. NSF currently funds U.S. News Online's science section, contributing three stories a week. They also send the website slideshows and podcasts. NSF also partnered with NBC news to produce a series on the science of the winter Olympics, distributed to classrooms via NBC Learn.
After CNN folded its science production team in 2008, NSF approached the show's senior producers about putting together a weekly video piece for widespread online distribution. Science Nation, launched a year ago through a DC-based PBS station, provides content weekly to all PBS stations in the United States.
NSF has built its own digital television studio that allows them to do live press briefings, providing an opportunity for the media to ask direct questions of scientists. Green Revolution is a series of videos designed to inspire and excite middle school students about clean energy.
"We pride ourselves on innovation, taking risks to provide services that are not currently available," Topousis said.
Kirk Janowiak, Albert Einstein Distinguished Educator Fellow at DOE Office of Science, is a former biology teacher who now focuses on workforce development. He said his program requires balancing altruism and self needs, ideals and practicalities and blending passion and opportunity.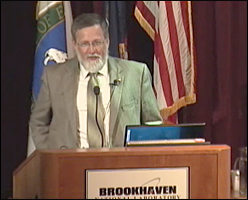 Kirk Janowiak
"Our priorities are science and discovery, changing the landscape of energy demand and supply, and positioning the U.S. to lead on climate change policy, technology and science," he said. " We take a pipeline approach to education from K to grey."
DOE Office of Science-sponsored programs include the high school-level National Science Bowl, now in its 20th year, and a middle school version started in 2000. The Pre-Service Teacher Program (PST) operates under the philosophy: "Don't just teach science, math or technology -- do it." DOE ACTS, a three-year program for teachers, is closely aligned with DOE lab capabilities.
In all its programs, the Office of Science encourages scientists to get involved and become mentors, he said.
"The first year for the mentor is the most difficult," he said, "but you have to keep in mind: Who is going to replace you? You can help prepare the next generation of creative inventors and innovators and play a direct role in placing and keeping the U.S. at the forefront of worldwide science and technology."
2010-1856 | INT/EXT | Newsroom