Past and Present BNL Employees Share Science With the Future
July 15, 2010
Never let anyone tell you that science is all work and no play. As the Long Island Science Center (LISC) shows in its new Toy Tech exhibit, scientific exploration can be hands-on fun.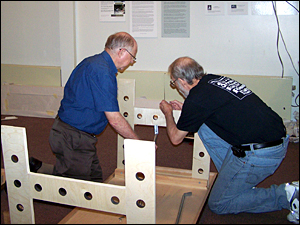 Volunteers help set up the Long Island Science Center's Toy Tech exhibit.
Brookhaven physicist Peter Wanderer, along with four BNL retirees, and a few members of the LISC board and staff, helped assemble the exhibit. As they set up tables, exhibit designer Ed Sobey decided where each item should go.
"Thanks to all our wonderful volunteers who shared their design and construction talents with us on June 30," said Delia Gibbs, executive director of the LISC. "Their help was invaluable."
Toy Tech has two components, educational and interactive. Visitors are encouraged both to look at and read about toys, and to take part in the showcases' hands-on components.
For the educational portion, the outsides and insides of toys are visible. Some electronic devices are opened up to reveal their inner mechanisms and how they work. Observers can also read about older toys' origins and histories.
A completed Toy Tech display
Meanwhile, on tables devoted to interactive activities, toys like Lincoln Logs and Legos are scattered, ready to be used in any number of projects.
"Kids are encouraged to see what they can make with a wide variety of objects," explained Wanderer.
In addition, Toy Tech includes other displays like a wind machine that blows a ball high into the air, kites and banners hanging from the walls, and classic modes of transportation for the under-16 set, including a red wagon and a two-wheel scooter.
The most popular showcases in this exhibit promote building projects. At the wind tunnel, visitors can construct and test "flying cones," trying to make their creations hover. Another flying opportunity comes at the rocket launch, where children can watch rockets of their own design lift off. Experimentation is encouraged: the flying cones and rockets can be tested, refined, and re-tested to make them soar better and higher.
Sobey designed Toy Tech as a traveling exhibit, with the objective of encouraging children's curiosity about the world. The display's educational and interactive components are focused on this goal at a variety of other host institutions.
The display came to LISC thanks to funding from the Downtown Riverhead Business Improvement District. This marks the first time that the Science Center has had a special summer exhibit.
One reason past and present BNLers support this exhibit is that it makes science accessible to younger observers. By showing them how things work and by pushing them to "experiment" on their own, Toy Tech encourages the next generation to take a scientific approach.
As Wanderer summed it up, "The idea is partly spontaneous play and partly seeing how things work on the inside — to get kids thinking about it."
2010-1896 | INT/EXT | Newsroom