Brookhaven Lab Hosts Live Q&A on Dark Matter, 10/28
In celebration of Dark Matter Day, three scientists from Brookhaven National Laboratory will answer audience questions about dark matter and dark energy during a live event streamed to YouTube, Facebook, and Twitter
October 26, 2021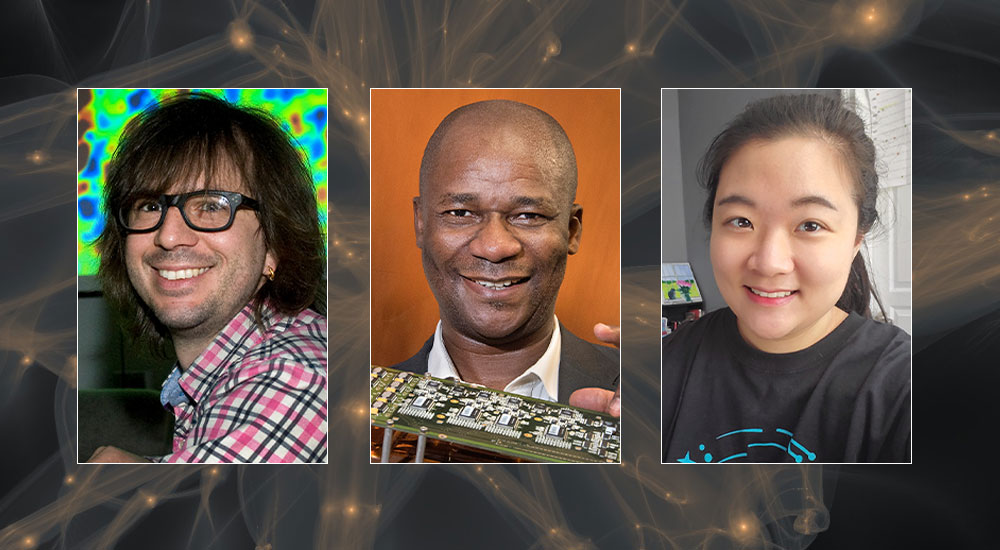 Anže Slosar, Ketevi Assamagan, and HyeYun Park
There's more to the universe than stars, planets, asteroids, comets, and space dust. In fact, this "ordinary matter" makes up just 4.9 percent of the universe's total mass and energy. Scientists believe that dark matter, the mysterious and invisible phenomenon that has only been detected through its gravity-based effects in space, makes up 26.8 percent of the universe's mass and energy. Dark energy, the driving force of universe's expansion, accounts for the remaining 68.3 percent.
On and around October 31, science institutions around the world celebrate the hunt for dark matter (and dark energy) during the Interaction Collaboration's Dark Matter Day. This year, the U.S. Department of Energy's Brookhaven Lab is joining the celebration by hosting a live Q&A session on Thursday, October 28 at 12 p.m. ET. The event will be streamed to YouTube, Facebook, and Twitter.
Three Brookhaven scientists will discuss what scientists currently know about dark matter, what questions remain, and the initiatives Brookhaven Lab is taking to find answers. Throughout the event, the Brookhaven panel will answer questions from the audience in real time. The panel includes Anže Slosar (leader of Brookhaven's cosmology and astrophysics group), Ketevi Assamagan (Brookhaven physicist conducting research at CERN's Large Hadron Collider and organizer of the African School of Fundamental Physics and Applications), and HyeYun Park (Brookhaven postdoc working with the Rubin Observatory).
Live questions will be accepted during the Q&A through the chat functions on all streaming platforms mentioned above. Viewers can also submit their questions about dark matter in advance by emailing LiveEvents@bnl.gov.
Brookhaven National Laboratory is supported by the Office of Science of the U.S. Department of Energy. The Office of Science is the single largest supporter of basic research in the physical sciences in the United States and is working to address some of the most pressing challenges of our time. For more information, please visit science.energy.gov
Follow @BrookhavenLab on Twitter or find us on Facebook.
2021-19207 | INT/EXT | Newsroom