Interns Danielle Nichols and Justina Bradley Investigate Biofuel
September 2, 2010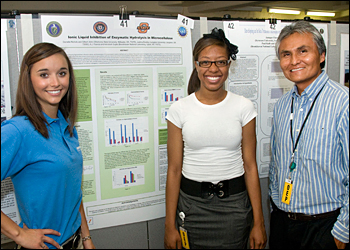 Interns Danielle Nichols (left) and Justina Bradley (center) share their poster with FaST program professor, Dr. Gilbert John .
As the push to liberate society from fossil fuels continues, researchers like those at Brookhaven National Lab are pursuing alternate sources of energy. This summer, Danielle Nichols and Justina Bradley, two interns in the Faculty and Student Teams (FaST) program, joined the hunt at BNL's Environmental Sciences Department.
"We're doing biofuels research, generating ethanol from raw natural materials," explained Nichols, a rising senior at Oklahoma State University (OSU).
Ethanol, unlike its fellow motor fuel gasoline, can be made from renewable resources.
As Bradley, a rising junior at Langston University, put it, "We're trying to find an effective and efficient way to go green."
Under the supervision of BNL researchers Arokiasamy J. (AJ) Francis and Ashutosh Gupta, and FaST program professor Gilbert John from OSU, Nichols and Bradley investigated the production of ethanol from cellulose, a common organic compound, that had been pretreated with liquid salts called ionic liquids.
In the lab, they used a glucose assay to monitor the effects of different ionic liquids on the cellulose's breakdown into glucose. The glucose assay monitors the change in a material by measuring how much light it absorbs, using an instrument called a spectrophotometer.
Specifically, the interns investigated the efficiency of two enzymes, cellulase and β-glucosidase, in converting cellulose to glucose. Ultimately, they used the bacteria Clostridium to ferment the glucose into two products: butanol and the biofuel ethanol.
"It's been a good experience to learn new techniques in the lab and to have access to such high-quality facilities," said Nichols. She said she also enjoyed the brown-bag lunches on Fridays, when researchers in a variety of fields presented their work to the interns.
Both Nichols and Bradley came to Brookhaven because of encouragement from their professors.
"The summer was long but beneficial," said Bradley. "I feel that it was a great experience, and has broadened my horizon for future research."
Added Nichols, "If I weren't graduating next year, I'd come back to BNL for another summer."
After graduation, both interns plan to attend medical school.
2010-1958 | INT/EXT | Newsroom