Better Together: New 2D Multilayer Laue Lens Overcomes Alignment Challenge
NSLS-II Researchers Win 2022 Microscopy Today Innovation Award for new Multilayer Laue Lens system
August 10, 2022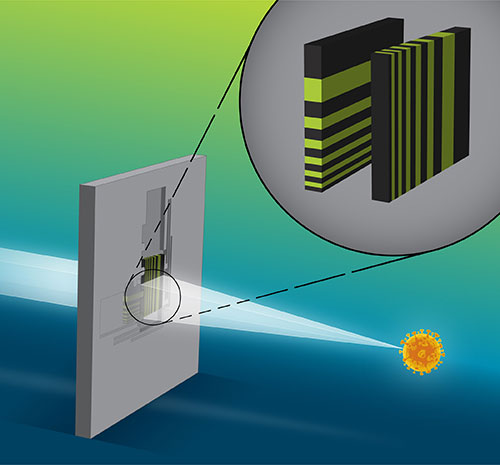 enlarge
A nanofabricated silicon template holds two independent MLLs with high precision for easy alignment.
The Science
Scientists developed monolithic 2D multi-layer Laue lenses (MLLs) to focus an x-ray beam down to approximately 10 nanometers, thus overcoming the alignment challenges associated with these optics. This development was recognized with a 2022 Microscopy Today Innovation Award.
The Impact
Ultrabright x-ray beams from modern synchrotron light sources offer powerful research opportunities; however, focusing such beams to delve into the range of nanometer resolution requires highly precise optics, which until now have been hard to align. These new bonded MLLs solve the alignment issue, allowing broader application of these optics in the x-ray microscopy community.
Summary
Microelectronics and tiny q-bits for quantum computers are technologies of the future that can tackle some of society's biggest challenges. However, to develop these minuscule powerhouse devices, researchers need to study them at the nanoscale. One efficient, non-destructive way is ultrabright x-ray beams available at facilities such as the National Synchrotron Light Source II (NSLS-II). To allow researchers to "see" into these tiny devices, scientists at NSLS-II developed a 2D x-ray optic that focuses hard x-rays down to ~ 10 nanometers. This development overcomes the alignment challenge for sets of individual 1D multi-layer Laue lenses (MLLs) and makes MLLs more accessible for a broader x-ray microscopy community.
The team manufactured two independent lenses, which are to this day the most efficient 1D hard x-ray optics available, and assembled them into a pre-aligned 2D lens by using microfabrication technologies. By leveraging the high accuracy of microfabrication, the stringent alignment requirements between two MLLs were achieved. Using this aligned set of lenses, the team successfully demonstrated a point focus of ~ 10 nm at the Hard X-ray Nanoprobe Beamline at NSLS-II.
The developed optic has been recognized as one of the best ten microscopy innovations of the year by Microscopy Today.
Download the research summary slide (PDF)
Related Links
Contact
Evgeny Nazaretski
National Synchrotron Light Source II, Brookhaven National Laboratory
enazaretski@bnl.gov
Publications
Wei Xu, Weihe Xu, Nathalie Bouet, Juan Zhou, Hanfei Yan, Xiaojing Huang, Ajith Pattammattel, Yuan Gao, Ming Lu, Maxim Zalalutdinov, Yong S. Chu, Evgeny Nazaretski, 2D MEMS-based multilayer Laue lens nanofocusing optics for high-resolution hard x-ray microscopy. Opt. Express, 28(12), 17660 (2020). [doi: 10.1364/OE.389555]
Funding
This work was partially carried out at the Center for Functional Nanomaterials, Brookhaven National Laboratory, which was supported by the U.S. Department of Energy, Office of Basic Energy Sciences, under Contract No. DE-SC0012704 and used resources of the National Synchrotron Light Source II, a U.S. Department of Energy (DOE) Office of Science User Facility operated for the DOE Office of Science by Brookhaven National Laboratory under Contract No. DE-SC0012704. This work was also performed in part at the Advanced Science Research Center NanoFabrication Facility of the Graduate Center at the City University of New York.
2022-20881 | INT/EXT | Newsroom