BWIS Lecture 1/19 at 3 p.m.: Ed Sierra on 'Lise Meitner: A Physics Love Story'
January 9, 2023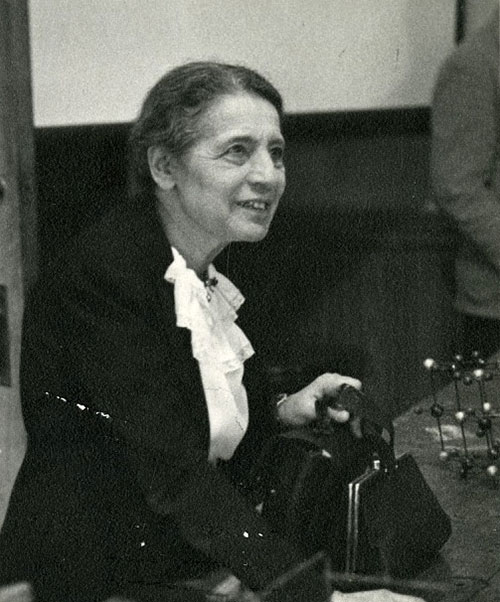 Lise Meitner at Catholic University in Washington, D.C., where she was a visiting professor of physics, in 1946. Credit: Smithsonian Institution Archives
Edward Sierra, Laboratory compliance officer in the Quality Management Office, will speak on the life and impact of physicist Lise Meitner, on Thursday, Jan. 19, at 3 p.m. as part of Brookhaven Women in Science's (BWIS) lecture series. All are welcome to attend via Zoom.
Meitner, born into a Jewish family, was an Austrian and later Swedish physicist who worked on radioactivity and nuclear physics, and was one of the great experimentalists of her day. Albert Einstein dubbed her "Our German Madame Curie" during the Berlin heyday in the roaring 1920s. She is considered to be the unsung hero of nuclear fission, having played an essential role in its 1938 discovery.
That year, when Hitler's rise to power put all Jewish scientists at risk, Meitner made a daring escape out of Germany. She faced both gender and religious discrimination, yet never ceased to pursue her work, the science that was the passion of her life. Join BWIS as Sierra takes you through these exciting and intriguing chapters of Meitner's life.
Sierra, co-officer of BWIS' Renate Chasman Award, began his career in the United States Navy serving in the electrical division aboard the U.S.S. Billfish SSN-676, a nuclear-powered fast attack submarine. He went on to work as a field operator at the Hope Creek Nuclear Power Station in New Jersey, and then as a nuclear reactor operator at Brookhaven Lab. He now works in the Lab's Quality Management Office and is president-elect of the Long Island Chapter of the American Nuclear Society.
2023-21028 | INT/EXT | Newsroom