Join Us for the NSLS-II, CFN & LBMS Users' Meeting
Registration for the NSLS-II, CFN & LBMS Users' Meeting is now open with a new facility participating!
March 28, 2023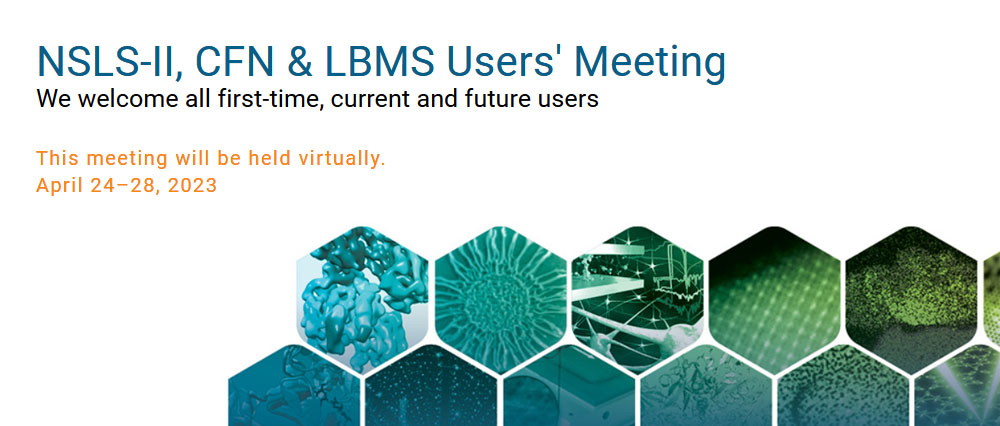 The User Executive Committees (UECs) of the National Synchrotron Light Source II (NSLS-II) and Center for Functional Nanomaterials (CFN) are delighted to announce that the Laboratory for BioMolecular Structure (LBMS), Brookhaven's cryo-electron microscopy facility, will also join the annual users' meeting. The meeting will be hosted virtually from April 24 - 28, 2023, and registration is now open.
The meeting offers scientists from diverse disciplines an opportunity to share their work, discuss new results, and explore the latest advances in experimental capabilities in synchrotron radiation, nanoscale, materials, and biological sciences.
This year's meeting offers one plenary session, an interactive poster session (with prizes!) and 17 workshops over four days, as well as virtual exhibitor booths and the return of our annual in-person banquet! The workshops cover various scientific disciplines, from advanced manufacturing to macromolecular serial crystallography.
The full list of workshops can be found on the website agenda (PDF).
In addition, we will be holding a satellite workshop on Friday, April 14, 2023, to update the NSLS-II community on the status of NEXT-III—the project by which the next set of beamlines will be selected, designed, and built at NSLS-II. The mission need statement for NEXT-III was approved by the Department of Energy in September 2022 and the beamline selection process is currently underway.
NSLS-II and CFN are two U.S. Department of Energy (DOE) Office of Science User Facilities located at Brookhaven National Laboratory. LBMS operations are funded by the U.S. Department of Energy's Biological and Environmental Research program.
Brookhaven National Laboratory is supported by the Office of Science of the U.S. Department of Energy. The Office of Science is the single largest supporter of basic research in the physical sciences in the United States and is working to address some of the most pressing challenges of our time. For more information, visit science.energy.gov.
Follow @BrookhavenLab on Twitter or find us on Facebook.
2023-21152 | INT/EXT | Newsroom