Promoting Diversity from the Inside Out
Brookhaven's Diversity, Equity, and Inclusion External Advisory Board meeting brings in fresh perspective
September 22, 2023
enlarge
Anita Farrington, JoAnne Hewett, Noel Blackburn, Gladys Palma de Schrynemakers, and Lee Bitsóí sharing ideas and experiences during the 2023 External Advisory Board Meeting held at Brookhaven Lab.
Every organization is a unique ecosystem of individuals who ebb and flow through professional and social connections. Achieving harmony in that system requires the perspective of those within, as well as the experiences of those outside of it. By seeing how other successful individuals and organizations meet their challenges in promoting diversity, equity, inclusion, and accessibility (DEIA), organizations can learn, grow, and move closer to their shared DEIA goals. In addition to other outreach initiatives, the Office of Diversity, Equity and Inclusion (DEI) at the U.S. Department of Energy's (DOE) Brookhaven National Laboratory has organized an external advisory board.
Brookhaven's external advisory board includes leaders from organizations such as Brandeis University, City University of New York, Con Edison, IBM, Stanford University, and STEM Impact, LLC. Working with Lab leadership, the external advisory board participates in open discussions that provide the board with valuable insights and promising practices to help shape the policies and programs promoting DEIA. The board convened on Aug. 23 this year, welcoming the Lab's new director, JoAnne Hewett, who was eager to participate.
"DEIA is one of my core values," said Hewett. "A respectful workplace environment allows everyone to contribute fully to the mission of the lab. The Department of Energy has just announced the Reaching a New Energy Sciences Workforce (RENEW) initiative. Forty-four grants were awarded nationwide, with 30 of them being awarded to national labs. Brookhaven received eight of these awards to help us continue to move forward with our DEIA mission."
The council connected Brookhaven leadership with seasoned DEIA experts in academia, industry, energy, and education. They were introduced to representatives of the Lab's major science and technology groups and mission support organizations, learning about the Lab's current DEIA landscape, how the leaders intend to improve what needs work, and how to maintain what has been successful to create a fair working environment.
The group also met with representatives from the Lab's employee resource groups (ERGs) and special lens groups (SLGs). ERGs are organizations within the Lab focused on the advancement of traditionally underserved groups, addressing challenges, sharing culture, and uniting the greater Brookhaven community. The Lab's ERGs represent employees identifying with various racial and cultural groups, gender and sexual minorities, and veteran status. SLGs, like the admin forum and the association for postdocs and students, represent employees and students in different places and phases of their career. Meeting with these groups gave the board a broad picture of how the Lab is implementing DEIA initiatives at several different levels, from individuals overseeing small groups to executive leadership steering the entire lab.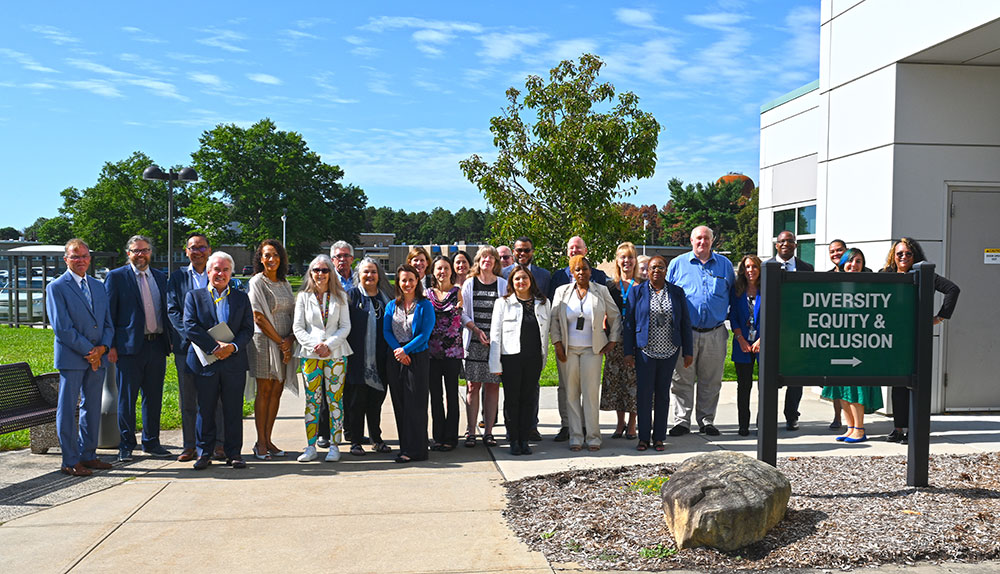 Lab leadership, employees, and the external advisory board convene in front of the Office of Diversity, Equity, and Inclusion.
"It's important to have this kind of feedback," said Noel Blackburn, chief diversity officer at Brookhaven. "Sharing our current challenges and future plans with the external advisory board helps to keep the discussion surrounding DEIA alive. The world we live in is always evolving and changing, and the vantage point we can get by incorporating the varying perspectives from DEIA leaders and champions from other organizations is so valuable."
The council also brought an array of perspectives from the larger STEM community. Lee Bitsóí, a critical ethnographer and bioethicist, serves as vice president for diversity, equity and Inclusion at Brandeis University. Driven by his own experiences as a first-generation ivy league graduate, Bitsóí has done tremendous work to advance indigenous students and institutions. As Brookhaven works with the local indigenous communities, the Lab could learn a lot from his endeavors, especially how the world of STEM and the historic cultures around us are not as far apart from each other as one might assume.
"In the fields of bioethics and environmental research, there is a lot of melding with ecological knowledge that is held within indigenous communities," said Bitsóí. "STEM has been a part of indigenous cultures for centuries."
While Bitsóí made Brookhaven leaders think of how to connect more locally, Anita Farrington, founder of the organization STEM Impact, shared her experiences implementing DEIA in schools locally in New York and a thousand miles away in Florida. With very different educational policies and regulations, this work can be challenging, but it has fired up Farrington's passion to make STEM education equitable and accessible.
"I feel like it's a calling," explained Farrington. "In an area like Palm Beach County, Florida, it's hard to believe that 70% of the students there are from underserved communities. I want students to envision, from the start, that a STEM education and career is within reach?part of that includes putting books about Black inventors in their hands. Now, more than ever, we value the support of our local chapters of national professional organizations like the American Association of Blacks in Energy (AABE)."
These were only the experiences of a few of the many powerful voices in the room that day. After coming together for discussions, networking over meals, fielding Q&A sessions, and having informal chats, the group convened to write a final report. Lab leadership looks forward to what the board has to say and how we can use their feedback to navigate towards a workplace that reflects and empowers the community it serves.
"Brookhaven should be applauded for creating a network where everyone has the potential of being seen, heard, valued, and appreciated," said Gladys Palma de Schrynemakers, senior associate dean of academic affairs, chief academic officer, and chief diversity officer at CUNY School of Labor and Urban Studies. "I look forward to seeing the impacts that are made when we convene again next year."
Brookhaven National Laboratory is supported by the Office of Science of the U.S. Department of Energy. The Office of Science is the single largest supporter of basic research in the physical sciences in the United States and is working to address some of the most pressing challenges of our time. For more information, visit science.energy.gov.
Follow @BrookhavenLab on social media. Find us on Instagram, LinkedIn, Twitter, and Facebook.
2023-21451 | INT/EXT | Newsroom