Peconic Bay Zontians Gather for a Good Cause
July 21, 2011
The women were threatening to take their clothes off. In Liberia, this is a grave social threat, and in 2003, a group of female protestors used it to help end a civil war in their country. When peace talks in Ghana were about to break up prematurely, a band of women wearing white T-shirts formed a line around the site of the talks. When officials ordered them to disband, the women refused to do so until the talks were completed, and because of this brave and defiant act, they became a critical element in securing the end of the civil war.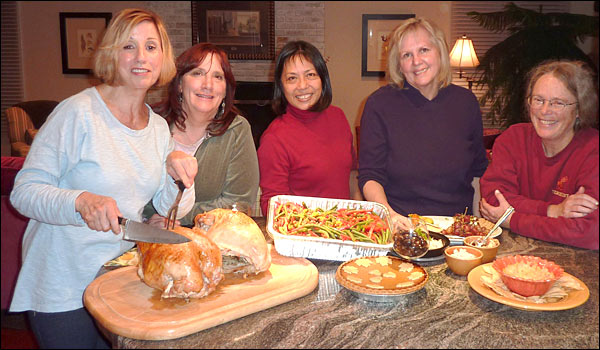 (From left) Jackie Pottgen, Kathy Walker, Mona Rowe, Diane Greenberg, and Barbara Pierce prepare dinner to be served at a local homeless shelter.
An empowering documentary about the Liberian women's struggle for peace, Pray the Devil Back to Hell, was recently screened for the first time on eastern Long Island by Peconic Bay Zonta, in collaboration with BNL's Brookhaven Women in Science (BWIS) and the Suffolk County Community College's Office of Multicultural Affairs. Four Brookhaven employees, Diane Greenberg, Barbara Pierce, Mona Rowe, and Kathy Walker, currently comprise almost half of the nine active members of Peconic Bay Zonta, a local chapter of Zonta International, which is dedicated to advancing the status of women and girls locally and internationally through service and advocacy.
Likewise, they're dedicated to educating themselves about the issues that impact women around the world, and to having fun.
"All nine of us are completely, thoroughly active and engaged in the club's activities," said Pierce, who is advocacy chair for the group. "Each month we pick a country and a theme for our meetings, then spend the night preparing a wonderful meal with the traditional foods of that country and learning about the status of women there through stories and statistical indicators like literacy rate, fertility rate, and infant mortality. It's never just social — it's always informative and stimulating."
When they aren't meeting to share food and conversation, these women plan and work together to aid local service projects and perform service of their own. In late May, they held a group yard sale to raise money for Ellen's Run (a 5K to support local breast cancer patients, which many Peconic Bay members will walk this August), and for a young girls' scholarship organization.
"It was amazing," said Greenberg, vice president of the group. "We raised $760 on items that were mostly priced at around one or two dollars. Our dues pay for a lot of our activities and charity donations, but this event was really successful in raising the amount that we could donate."
Peconic Bay Zonta, though small, covers a large geographical region — the entire East End of Long Island, which includes both the north and south forks — so choosing which organizations to support is sometimes challenging.
"We try to leverage what our small group can do by supporting other groups in the community," said Rowe, president of the organization. "We rotate our focus every two years, and together we search for different projects and issues to work on. Things have gotten a lot better for women over the past century, especially in this country, but I still think women need a little extra help. We still don't have equality. Female employees doing the same job as their male counterparts still earn about 80 cents less on the dollar, and 70 percent of the people who are poor in the world are women."
Not surprisingly, the women of Peconic Bay Zonta are also active in other organizations. Walker is co-coordinator of BWIS, which will present Pray the Devil Back to Hell on Wednesday, August 3, at noon in Berkner auditorium.
"Brookhaven Women in Science strives to increase awareness of the accomplishments of women in science. In addition, we promote a long-term commitment to diversity and the advancement of women in scientific and technical careers by providing a forum for the exchange of scientific, technical, and professional information," said Walker. "This summer, we have about 250 interns on site. Young people today may not have heard of Charles Taylor and the bloody civil war in Liberia, but I think the Lab community, and especially our summer students, will be riveted by the historical events captured by the documentary."
"Zonta" is the Lakota Sioux word for "honest and trustworthy," and Zonta International, the parent organization of Peconic Bay Zonta, was started by Marian de Forest in 1919 in Buffalo, New York. Throughout the last century, Zonta has grown to include more than 31,000 members in 64 countries, and its service projects range from the large-scale, like Zonta's efforts to help implement and enforce laws and policies that protect women and victims of violence in other countries, to the small-scale, like the Thanksgiving dinner that the Peconic Bay Zontians prepare for local homeless shelters supported by Maureen's Haven.
"It's a beautiful meal, and it's such a rewarding experience," said Greenberg. "We work to find projects that really make a difference to people, and that we can accomplish together."
The Peconic Bay Zontians welcome the addition of anyone at Brookhaven (and beyond) who is interested in joining their organization.
"It's the perfect kind of service group for people who don't have a ton of time to spend on one project," said Pierce. "I think some people feel like they want to do something but are worried it will take too much time and effort — but we're pretty efficient at combining our service with our social time. Zonta is a really great, really caring community."
Anyone interested in joining the Peconic Bay Zonta (men included!) may contact Mona Rowe at mrowe@bnl.gov, or visit the Peconic Bay Zonta website.
2011-2461 | INT/EXT | Newsroom