YouthBuild Graduate Ivan Rodriguez Thrives at BNL
Worked on LI Solar Farm project this summer
September 12, 2011
Ivan Rodriguez, a graduate of United Way of Long Island's YouthBuild and a BNL student assistant, is on the path to a successful career in construction after surmounting numerous roadblocks along the way. Rodriguez, a 24-year-old from Freeport, Long Island, dropped out of high school at age 16 to help support his family, including his younger brother who has autism. He worked as a sheetrock installer and painter, but he also had a drug problem and was convicted of petty larceny.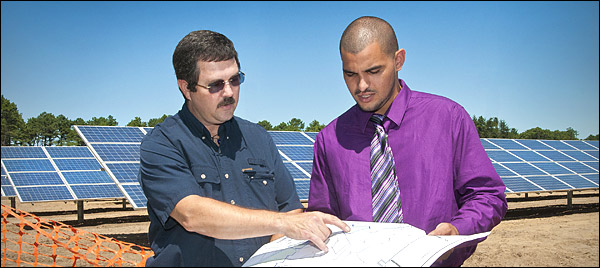 Brookhaven Lab's Natural Resources Manager Tim Green and BNL Student Assistant Ivan Rodriguez review Long Island Solar Farm plans
After serving time in jail, Rodriguez was given a second chance to succeed as a student in YouthBuild Long Island. YouthBuild, with support from the U.S. Department of Energy (DOE) and the U.S. Department of Labor, helps low-income young men and women, ages 18 to 24, work towards earning a General Education Development diploma while learning hands-on, green-building construction skills. YouthBuild places a strong focus on energy efficiency, renewables, weatherization, Energy Star construction, and home performance. Additional program components include high school/college readiness programs, job readiness, leadership development, counseling and job development.
A Fresh Start at BNL
Rodriguez gave an inspiring presentation about his progress in YouthBuild at the breakfast for United Way captains at last year's BNL fund drive. At that time, he mentioned that he would like to work for the Laboratory if the opportunity became available. On Valentine's Day 2011, his wish came true. The Quality Assurance Office hired him as a student assistant, working in construction.
Rodriguez shadowed Michael Viscusi, a construction inspector in the Modernization Project Office, helping him with ongoing construction projects on site, including the renovation of science labs and various excavating projects.
"I learned how to read a commercial blueprint," Rodriguez said. "Before I worked here, I didn't even realize that a blueprint was needed for constructing a building. I learned so much about building design and construction at the Lab."
A Solar Farm Project
This summer, Rodriguez worked with BNL Natural Resources Manager Tim Green on a Sustainable Sites Initiative (SSI) application for the Long Island Solar Farm being built on site by BP Solar in collaboration with the Long Island Power Authority and DOE, which provided 200 acres of land in the eastern portion of the Lab site for the project.
SSI is a partnership of the American Society of Landscape Architects, the Lady Bird Johnson Wildflower Center, and the U.S. Botanic Garden in conjunction with several stakeholder organizations to establish and encourage sustainable practices in landscape design, construction, operations, and maintenance. The program is modeled after the Leadership in Energy and Environmental Design Green Building Rating System, known as LEED, the nationally accepted benchmark for the design, construction and operation of green buildings. SSI provides guidelines concerning construction that foster preservation, conservation, regeneration, and environmental stewardship of a building site.
Among some of the key areas covered in the extensive 20-plus page application that Rodriguez researched are soil, vegetation and wetlands. Although trees had to be cut down to install the 6,800 racks of 164,000 solar panels that will generate enough renewable energy to power approximately 4,500 homes, grasses will be planted as part of native vegetation restoration. The trees were recycled as mulch spread around the construction site, or were diverted for firewood or lumber.
The solar site is outside the wetlands boundary, but runoff feeds into the Peconic River, so BP Solar developed a storm water pollution prevention plan. In addition, a small pond was restored as a habitat for tiger salamanders, an endangered species in New York State.
At Facility Operations
Now Rodriguez is working at the Lab's Facility Operations Center (FOC), which provides computer programs to assist in the planning, management, and administrative procedures required for an effective maintenance and asset management process.
"Ivan will be able to learn about all the key aspects of our system, and then we expect that he will assist our staff with work involving such items as work-order management, the preventive maintenance system, and facility inspections," said FOC Manager Peter Eterno.
Back to School
Rodriguez is also taking a course in construction management at Nassau Community College this fall, and he will work toward earning an associate's degree. After that goal is achieved, he hopes to continue his education. "My long-term goal is to be a civil engineer," he said.
2011-2542 | INT/EXT | Newsroom