Ward Melville Students Go "Shopping" at BNL
March 5, 2012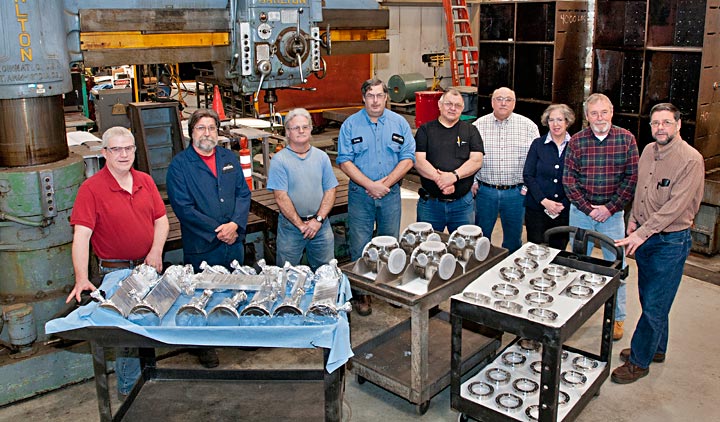 enlarge
Craftsman from Central Fabrication Services with machined parts to be installed at NSLS-II. From left: Christopher Manning, Roy Sampson, Richard Savoy, Craig Danforth, Ernst Sohn, Al Farland, Nicole Bernholc, Dennis Malloy, and Kevin Campbell. Missing from the photo are Robert Geib and Water Ducoing.
Central Fabrication Services (CFS) recently had the opportunity to demonstrate their expertise to students from Ward Melville High School. The students, who are part of a school program called "Mechatronics," made a field trip to the Lab to gain a better understanding of what large-scale shops really do. Mechatronics is a multidisciplinary, integrative program − a combination of engineering and design methodologies including mechanical and electronic engineering − hence "mechatronics."
The outing was arranged by Nicole Bernholc of the Safety and Health Services Division and Al Farland, general supervisor of CFS, with Steve Rogers, a mechatronics teacher at Ward Melville High School.
"The students seemed amazed at the size of the shop and the wide range of equipment we have at the Lab," said Farland. "They were very interested in how the equipment worked and what types of items we are capable of creating. We were all happy to share our knowledge with them."
After putting on safety glasses and ear protection, the students visited four separate workstations to listen to overviews and watch equipment demonstrations by CFS staff.
Kevin Campbell gave a general overview of fabrication skills and explained how machines are programmed and operated using the technique computer numerical control (CNC).
Al Farland had some of the employees demonstrate the techniques of water jet cutting, oxyfuel cutting, CNC tube welding, and CNC in sheet metal fabrication.
Dennis Malloy explained the importance of inspecting parts to ensure they meet job criteria and how the coordinate measuring machine provides exact dimensions for projects before assembly and machining actually begins.
Christopher Manning introduced the students to Mastercam programming and impressive 3-dimensional printing, which is used to make 3-D prototypes and plastic models of the part before the "real thing" is constructed. Manning also described how wire electrical discharge machining uses electricity to cut metal.
Comments and questions by the students and teacher confirmed that the visitors were thoroughly impressed. "This type of field trip allows our students to see industrial skills at work in a genuine setting," said Rogers. "On behalf of the students, I thank the fabrication shops employees at BNL for sharing their knowledge with our future generations of skilled craftsman."
2012-2919 | INT/EXT | Newsroom