Brookhaven Helps DOE and DOS Encourage Sub-National EcoPartnerships in China
April 23, 2012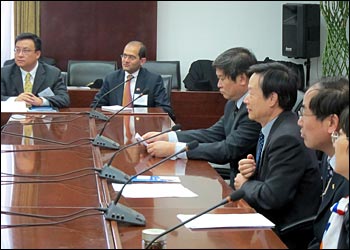 Vice Minister Qiu (third from right) of China's Ministry of Housing, Urban and Rural Development presenting opening remarks at a BNL-organized workshop on Clean Energy for Sustainable Cities in Beijing with the U.S. Mayors' delegation in December 2011. BNL's Vatsal Bhatt is second from left.
Brookhaven Lab's Vatsal Bhatt, working in the Sustainable Energy Technologies Department of the Global and Regional Solutions Directorate, has facilitated an EcoPartnership between the U.S. city of Columbus, Ohio and Chinese city of Hefei, Anhui Province. This newest EcoPartnership was announced by the U.S. Department of State (DOS) on the occasion of the visit of Chinese Vice President Xi Jinping in February 2012. Bhatt serves on DOS established Secretariat of EcoPartnerships under the U.S.-China Ten Year Framework for Cooperation on Energy and Environment (TYF). The purpose of the EcoPartnerships program is to encourage U.S. and Chinese sub-national stakeholders to share best practices, foster innovation and promote sustainable economic development. Since the TYF agreement was signed in 2008, 15 EcoPartnership agreements have been signed between U.S. and Chinese cities and organizations.
Bhatt has been working with Columbus-Hefei since 2007, when the U.S. Department of Energy (DOE) funded his proposal to establish US-India-China Cities Partnerships for Energy and Environment, pairing eight U.S. cities to eight Indian cities and seven Chinese cities, to enable sharing best practices and planning and deploying technologies for energy efficiency and renewable energy. In addition to the Columbus-Hefei partnership, he facilitated signing of an EcoCities memorandum of understanding (MOU) between the U.S. city of Chicago and the Chinese city of Shanghai in September 2010 and another MOU between the U.S. city of Atlanta and the Indian city of Ahmedabad in March 2008. These partnerships focus on programs such as green buildings, renewable power, alternative fuel vehicles, recycling, efficient water supply and sanitation, and green government purchasing.
Last December, Bhatt was among those accompanying a delegation of U.S. mayors and other officials to Beijing for a weeklong visit that exposed the officials to opportunities for collaboration and attracting future Chinese investment in U.S. cities. The visit was part of an exchange program supported by the Department of Energy's Office of Energy Efficiency and Renewable Energy (EERE) — Clean Energy for Sustainable Cities: Sharing Best Practices and Technologies.
The initiative, also supported by the Sister Cities International, the Alliance to Save Energy and DOE Labs like Brookhaven and Oak Ridge, was designed to build partnerships between Chinese and American government cities and private sector representatives to support low carbon development. Mayors and officials from San Francisco, Birmingham, Columbus, Denver, Fort Worth, Honolulu and Charlotte were part of the group who met with central and local government officials and representatives from China's academic and research institutions and technology companies.
"Now Hefei is learning from Columbus and vice versa," Bhatt said. "We help these cities share knowledge and technologies for leapfrogging to advanced infrastructure and create economic opportunities and jobs in U.S. For example, Hefei is inviting Columbus-based green building experts to help make Binhu district near-zero energy development. Similarly, Hefei's GuoXuan Battery Company is exploring production of batteries for electric vehicles in Columbus, in collaboration with Ohio State University's Center for Automobile Research and a Cleantech incubator.
In a partnership established in May 2011 between Charlotte, North Carolina and the City of Langfang, Hebei Province, a Chinese company is exploring installing solar panels on a city-owned building in Charlotte.
"These types of international exchanges and collaboration are vital to solve global problems," said Paul Friley, leader of the Energy Policy and Technology Group.
"One of the real accomplishments of the EcoPartnerships is to leverage the US Sister Cities program to forge meaningful connections between US and Indian Cities in energy efficiency and energy management," said Sustainable Energy Department Chair Pat Looney. "This has made this program particularly strong, with benefits that include direct access for U.S. business to the Chinese and Indian markets."
"More than half the world's population is now urban, and, according to the United Nations, about 90 percent of future growth will take place in cities," Bhatt said. "It is vital to focus research and collaboration on pressing urban issues like energy and environmental quality, since city activities are responsible for nearly 75 percent of world greenhouse gas emissions."
2012-2932 | INT/EXT | Newsroom