Congratulations, Perfect Attendance Awardees of 2011!
July 6, 2012
Deputy Laboratory Director for Operations Mike Bebon, with Gail O'Hern of the Human Resources and Occupational Medicine Division, congratulated 42 BNL employees on their excellent records of "Perfect Attendance" during calendar year 2011 at a ceremony held in Berkner Hall on May 14. Each winner received a check for $200 less tax, a logo-printed T-shirt, and a certificate showing the number of years of perfect attendance the winner had achieved. The annual event is held by BNL in recognition of the commitment and service provided by full-time employees on the technical and clerical schedules who used no sick leave during the previous calendar year.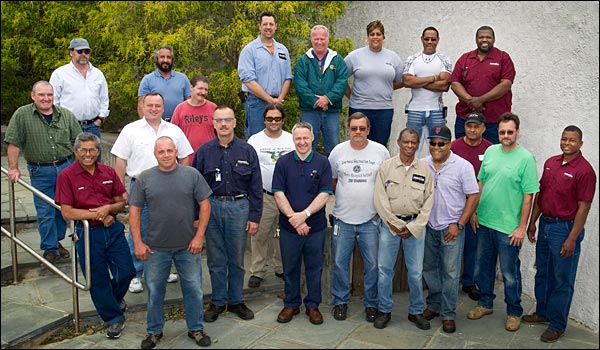 Photographed during the 2011 Perfect Attendance Award celebration on May 14 at Berkner Hall are many of the 42 Perfect Attendance Award winners of 2011. The winners are listed below alphabetically in their departments/divisions; the number of years they have won this perfect attendance prize appears after their name. Biology Department: Phyllis Tinsley-Smith, 20; Collider Accelerator Department: John C. Moloney, Jr., 1; Community, Education, Government & Public Affairs: Cornelius Jackson, 17, and Alex Reben, 17; Energy & Utilities Division: Daniel Feeley, 2; Frank Pomaro, 2; Kevin Tisch, 1; and Thomas Walters, 2; Environmental Protection Division-Waste Management: Daniel Blakely, 1; Laboratory Protection Division: Daniel Chapman, 1; John Davies, 2; and Gary Schaum, 14; Physics Department: Kevin Casella, 4; Procurement & Property Management Division: Wayne Cummings, 4; Isidro Garcia, 5; Dhruba Ghimiray, 15; William McPherson, 7; Peter Realmuto, 9; Regis Saitta, 2; Anthony Shane, 2, and Shelby Williams, 17; Photon Sciences Directorate: Ronald Loffredo, 1, and Paul Edward Palecek, Jr., 1; Site Resources Division: Eugene Barrow, 7; Howard W. Bell, Jr., 6; Robert W. Callister, Jr., 8; Michael Daddi, 2; Robert Danowski, 3; Ralph J. Giordano, Jr., 10; Keith Jackson, 4; Keith Krisman, 1; Carol Mason, 5; Lisa Metz, 12; Randolph Seibel, 15; John Sullivan, 2; Scott Thilberg, 1; Johnnie Turner, Jr., 8, and Jeannette Vera, 5; Staff Services Division: Shirley Ayers, 5; Bryan Hanlon, 12; Susan Santana, 2; and Brenda Turner, 5.
The Perfect Attendance award was first given in 1992, when full-time employees on the technical and clerical schedules were recognized for having used no sick leave during 1991. In 1995, these employees and those from the Paper, Allied-Industrial, Chemical & Energy Workers International were joined in eligibility for the award by BNL employees represented by the International Brotherhood of Electrical Workers. In 1998, members of the Suffolk County Security Police Association in the Safeguards & Security Division also became eligible for the prize.
This year, as previously, many awardees had achieved multiple years of perfect attendance: eight won for the first time, nine for the second time, one for the third, three for the fourth, five for the fifth time, one for the sixth time, two for the seventh time, two for the eighth time, and one for the ninth time. Ralph Giordano won for the tenth time, Lisa Metz and Brian Hanlon won for the twelfth time; Gary Schaum won for the fourteenth time, Dhruba Ghimiray and Randolph Seibel won for the fifteenth time; Cornelius Jackson, Richard Lutz, Alex Reben, and Shelby Williams for the seventeenth time — and Phyllis Tinsley-Smith, BNL's A-one, shining top-of-the-bill all-star, won for the twentieth time. Employees who became eligible for the prize after its inception have often served BNL with additional years of perfect attendance that are on record elsewhere.
2012-3163 | INT/EXT | Newsroom