Stanislaus Wong Named AAAS Fellow for Work on Designing New Nanomaterials
Nanoscale chemistry produces materials for future energy applications
December 10, 2012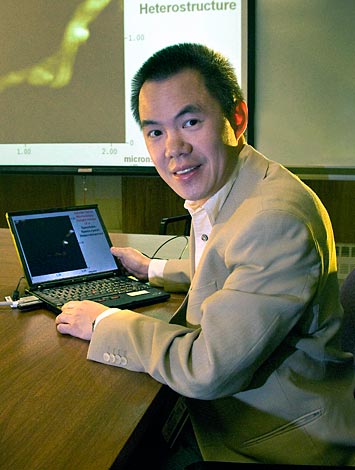 Stanislaus Wong
Stanislaus Wong, a chemist at the U.S. Department of Energy's Brookhaven National Laboratory, has been named a Fellow of the American Association for the Advancement of Science (AAAS) for his work on tailoring nanoscale materials—materials with dimensions measuring billionths of a meter—with possible future applications to improve solar cells, fuel cells, and batteries. Election as an AAAS Fellow is an honor bestowed upon AAAS members by their peers.
The tradition of the naming of AAAS Fellows began in 1874; this year, 702 members were elected for their scientifically or socially distinguished efforts to advance science or its applications.
Wong, who also holds a joint appointment at Stony Brook University, was acknowledged for his efforts to make carbon nanotubes functional for a wide range of applications and for his work in "green" nanostructure synthesis techniques.
With respect to the latter studies, "we're trying to make multifunctional nanomaterials using techniques that are water-based and that are done at room temperature and pressure conditions. The idea is to merge the favorable properties of individual nanomaterial building blocks into an integrated whole, whose specific properties are different from and potentially better than the sum of their separate parts," Wong said. "In so doing, our goal is to design and produce truly unique nanostructures with distinctive and potentially unforeseeable properties and functionalities. And we try to do all this under sustainable conditions."
"It is a great honor to be included among the 2012 AAAS Fellows. We hope our work will make a difference to people by improving our fundamental understanding of how to reliably synthesize, modify, and engineer novel nanomaterials to address important energy issues such as catalytic enhancement and energy conversion. The fact that others in the community believe that our group's efforts have been significant and worthwhile is not only deeply satisfying but also personally humbling," he said.
Wong's team in the Brookhaven Condensed Matter Physics and Materials Sciences Department and the Stony Brook University Chemistry Department aims to create and rationally tailor novel nanostructures for specific applications.
With a focus on controlling the optoelectronic and mechanical properties of carbon nanotubes through chemistry, Wong has to keep a long-term perspective in mind when it comes to his work.
"We are gathering the necessary basic experimental understanding that should enable the reliable and pervasive incorporation of nanostructures into technological platforms and practical applications for future generations," he said.
Those experiments have led to the serendipitous discovery that nanotube and nanowire synthesis, especially of non-carbonaceous materials, can be done in an earth-friendly manner.
"We happened to stumble upon making metal oxides in a sustainable way. It turned out that lo and behold, we can actually make nanomaterials relatively rapidly and easily in high yield under ambient conditions, without the need for either catalyst seeds, surfactants, or cumbersome washing steps, that are typical of most conventional processes. This was a fortuitous discovery," Wong said.
Since that discovery, Wong has shared his techniques with colleagues through scientific talks and symposia participation in an effort to popularize sustainable nanoscience protocols. These cost-effective methods are meant to minimize waste, reagent use, and power consumption—and eliminate common practices, such as the use of high-temperature furnaces, harmful precursors, and expensive experimentation—in a way that could potentially make a wide range of materials processing procedures more eco-friendly.
"There are not enough groups making nanostructures in a sustainable way. So in recent years, I've helped to co-organize various American Chemical Society symposia on nanotechnology and the environment to highlight the benefits and promise of such strategies, moving forward."
The 2012 AAAS Fellows will receive a certificate and a rosette pin on Saturday, February 16, 2013 at the AAAS Fellows Forum during the AAAS Annual Meeting in Boston, Mass.
Wong and his team are supported by the Department of Energy Office of Science. Over the years, Wong has also received the American Chemical Society Buck-Whitney award, the National Science Foundation CAREER award, as well as an Alfred P. Sloan Foundation Faculty Fellowship.
DOE's Office of Science is the single largest supporter of basic research in the physical sciences in the United States, and is working to address some of the most pressing challenges of our time. For more information, please visit science.energy.gov.
2012-3510 | INT/EXT | Newsroom