Two New Security Police Officers Join Lab Protection Division
January 2, 2013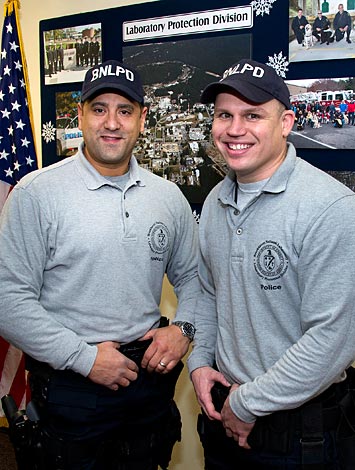 BNL's new security police recruits Stephen Buczak (right) and Jules Martinez.
After nine weeks of intense training, new security police officer recruits Stephen Buczak and Jules Martinez were honored at a ceremony on December 14 marking the end of their instructional training period. The two will now get "on-the-job training" by working in the field side-by-side with other officers of the Laboratory Protection Division (LP).
Before coming to BNL, Buczak served in the United States Marine Corps as a member of the Fleet Anti-Terrorism Security Team. He graduated with honors from Briarcliffe College in 2012 with a bachelor's degree in criminal justice. Buczak currently serves in the Air National Guard with the 106th Air Rescue Wing based in Westhampton.
"The training program at BNL was among the best training I have ever received," said Buczak. "I am really happy to become part of the elite BNL security team."
Martinez retired from "New York's Finest" (the New York City Police Department) as a sergeant after 21 years on the job. He holds a bachelor's degree from SUNY Empire College in criminal justice and administration.
"Working in New York City as a police officer has provided me with many of the necessary skills for this new job, but the training I received these past nine weeks has been extremely valuable," said Martinez. "I look forward to being part of the security team and making BNL my second career."
The security officer training program is led by Captain David Peter of LP, with assistance from many other members of the division. And, the instructional program isn't as easy as some may think. New recruits must qualify on many levels, including firearms and tactics, scenario-based training, and detailed report writing.
"Stephen and Jules' experiences, attitudes, and demeanors perfectly complemented each other," said Peter. "Over the course of instruction, I learned a lot from them too. They are true professionals and I am certain they will serve BNL well. We welcome them to our team."
2013-3539 | INT/EXT | Newsroom