Three BNL Staff Members Elected as Fellows of the American Physical Society
January 29, 2013
Three BNL scientists have been named Fellows of the American Physical Society (APS), a professional organization with more than 47,000 members. Election to APS Fellowship is limited to no more than one half of one percent of its membership in a given year, and election for this honor indicates recognition by scientific peers for outstanding contributions to physics. The citation and a summary of the contributions of each new Fellow — Elke Aschenauer, Robert A. Bari, and Tonica Valla — follow.
Elke-Caroline Aschenauer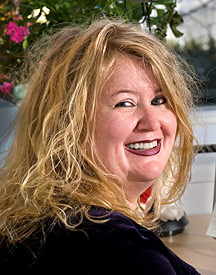 Elke-Caroline Aschenauer
"For her scientific and technical accomplishments in the study of the spin structure of the nucleon, and her demonstrated ability to lead large, international collaborations in design and execution of such experiments."
Aschenauer leads the Spin Group at Brookhaven's world-class accelerator, the Relativistic Heavy Ion Collider (RHIC), where experimental physicists study hot, dense matter thought to have existed in the very early universe. Spin, or the intrinsic angular momentum of a subatomic particle (in this case, protons and neutrons), is a property in physics that may reveal new information about the fundamental nature of visible matter. By analyzing beam collisions at RHIC, Aschenauer and her team hope to gain a better understanding of the role played by gluons, particles that are bound together with quarks within protons. It is currently poorly understood whether, and how, partons—quarks and gluons—contribute to the nucleon's spin structure.
"To receive this honor is especially nice as it comes from my colleagues and peers and shows that they appreciate my work," said Aschenauer. "RHIC is currently the only machine in the world that will allow us to get a first good look at the polarization of gluons, a question I'm extremely interested in."
In addition to leading the RHIC Spin Group, Aschenauer co-chairs the Physics Department's Electron Ion Collider (EIC) task force. The EIC is a proposed upgrade to RHIC, dubbed eRHIC, that would accelerate electrons and collide them with heavy ions or protons at nearly the speed of light. Using a camera-like detector with superfine resolution—a-millionth-of-a-billionth of a meter—physicists can analyze "snapshots" captured by electrons that provide a brief look at gluons at a nearly light-speed saturation point. eRHIC would be the only accelerator in the world capable of exploring the spin contributed by gluons and quarks at such high speeds.
The possibility of eRHIC is an exciting prospect for Brookhaven scientists. Aschenauer said "eRHIC will be the only machine in the world which will allow us to unravel the mystery of the individual parton contributions to the spin of the nucleon, and to gain a deeper understanding of the world around us."
Aschenauer earned a Ph.D. in physics from the Swiss Federal Institute of Technology (ETH) Zürich in 1994, then accepted a personal postdoctoral fellowship from the European Union to work at NIKHEF and University of Gent in Belgium. She joined Deutsches Elektronen-Synchrotron (DESY) in Germany as a postdoc in 1997 and became their staff scientist in 2001, where she started her research on nucleon spin at the HERMES experiment. After being part of a team that built the HERMES RICH detector, she spent three years as Deputy Spokesperson and Run-Coordinator, and then 3.5 years as the spokesperson of the HERMES experiment. In 2006, she moved to Jefferson Lab and was the group leader of the Hall D scientific and technical staff and project leader for the Hall D contribution to the 12 GeV upgrade project. She joined Brookhaven as a staff scientist in 2009 and received tenure in 2010.
Robert A. Bari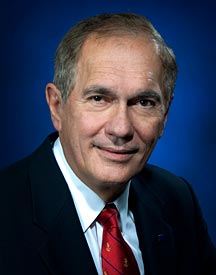 Robert A. Bari
"For his many contributions to nuclear power reactor safety, security, and proliferation resistance including major contributions to probabilistic risk assessment and to methods for analyzing proliferation resistance of complex nuclear systems and for leadership in advancing safety internationally."
A senior physicist in Brookhaven National Laboratory's Nuclear Science and Technology Department, Bari has contributed to Brookhaven's expertise in the fields of condensed matter physics, nuclear energy, probabilistic risk assessment and nonproliferation analysis method for more than four decades. After earning a bachelor's degree in physics at Rutgers University in 1965 and a Ph.D. in physics at Brandeis University in 1970, he was hired at Brookhaven as an assistant physicist in 1971. Prior to joining BNL, he had a postdoctoral appointment at MIT Lincoln Laboratory in the Solid State Theory Group.
"I feel very honored to be recognized by the physics community in this way," Bari said of the APS honor. "It is especially important to me because the applied research that I do is in areas of meeting national need and addressing international impact. My foundational training and early career activities in fundamental physics have allowed me to approach the formidable challenges in the applied areas with a scientifically informed perspective."
Bari was recently selected by the president of the National Academy of Sciences to serve on the U.S. National Academies committee on "Lessons Learned from the Fukushima Nuclear Accident for Improving Safety and Security of U.S. Nuclear Plants". This assignment began in June and the Committee's report will be issued to Congress in early 2014. In November, Bari travelled to Japan with the committee to meet with Japanese officials in Tokyo and to tour the damaged Fukushima plant.
According to Lawrence Berkeley National Lab scientist and nuclear safety expert Robert J. Budnitz, Bari and his BNL colleagues have been among the leading groups worldwide in performing probabilistic-based systems analyses to understand the safety of nuclear power reactors since the early 1980s.
"Bob has for decades been a leading practitioner and leading figure internationally in that area," Budnitz said. "Bob's focus has been on reliability and risk allocation issues, in which a design is studied and improved to assure that no single accident sequence 'dominates the risk,' and in which understanding the way uncertainties are handled is at the heart of understanding how to interpret the results and how to use them to improve safety.
"Bob also has made major, indeed seminal, contributions to another vital area of concern with nuclear power reactors, namely the area of reactor security," Budnitz added. " The technical issue is easy to explain but difficult to study. If one postulates that an adversary with knowledge of the reactor system somehow can get inside a facility and can attack with certain measures (armed force, chemicals, explosives, etc.), an analysis of what happens next can be crucial to understanding how to deploy defenses to mitigate the damage, or perhaps to prevent it altogether. This is a narrow and specialized field in our reactor business. Again, Bob has been a leader internationally in that area. "
Former Deputy Brookhaven Lab Director Marty Blume, also editor emeritus at APS and a longtime friend, first hired Bari at BNL.
"He got a Ph.D. in condensed matter physics at a time when budgets in that area were drying up," Blume said. "But he became interested in probabilistic risk assessment for the safety of nuclear power reactors and also in nonproliferation, and made a very significant career in those areas."
Blume was chagrined to discover that Bari was not previously named an APS Fellow.
"Any one of his many accomplishments could have qualified him to be a fellow of APS," he said. "Every few years when the Nobel Prizes are announced, we see someone who's a member of the APS but was never made a fellow. We are astonished and mortified. Bob is in a similar category. I never thought twice about nominating him because I was so sure that he would have been previously honored."
Bari credited Blume with teaching him "physics, management, jogging and sailing."
"He got a boat similar to mine, and then far surpassed me," Blume said.
Bari is currently international co-chairman of the Working Group on Proliferation Resistance and Physical Protection of the Generation IV International Forum. He is also the technical program chairman of the American Nuclear Society's (ANS) conference on Probabilistic Safety Assessment to be held in September. He has served on the board of directors of the ANS and is an elected fellow of the society. Bari was awarded the ANS Theo J. "Tommy" Thompson Award in 2003. In 2004, he received the Brookhaven National Laboratory Award for Outstanding Achievement in Science and Technology.
Tonica Valla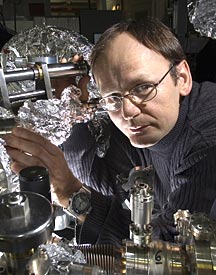 Tonica Valla
"For photoelectron spectroscopy studies of the electronic structure and collective dynamics of strongly correlated materials."
Valla, a tenured physicist in the Condensed Matter Physics & Materials Science Department at Brookhaven Lab, specializes in the fundamental characterization of new materials with major technological potential. Photoelectron spectroscopy, Valla's preferred technique, measures the energy of electrons emitted by a material after being precisely struck by photons, providing detailed information about surface structure and electronic properties.
"I am truly honored by this recognition from my peers," Valla said. "My colleagues and I are doing truly fundamental work that expands our understanding of the physical world, but it may be years before the applications come into focus. It's important and gratifying to know that the scientific community values this research and recognizes that we're laying the groundwork for future technology breakthroughs."
Valla's research reveals the electronic structure of a wide range of materials, including high temperature superconductors, which may play a critical role in advancing devices and energy technologies ranging from grid-scale storage systems to quantum computers. Valla and his colleagues at Brookhaven also conduct leading studies of graphene and topological insulators, the new two-dimensional "super materials" with exotic properties that might be harnessed in the next generation of electronic and possibly spintronic devices.
Valla received his Ph.D. from the Institute of Physics in Zagreb in 1996. He joined the electron spectroscopy group in the Physics Department as a postdoctoral fellow that same year, and he was promoted to assistant physicist in 1999. In 2001 he became an associate physicist and was given a continuing appointment in Physics and joined the CMP&MS Department as it formed in 2005. Valla was granted tenure in 2008.
2013-3560 | INT/EXT | Newsroom