Meet Steve Giordano
October 22, 2007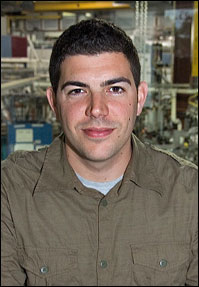 Steve Giordano
Steve Giordano writes code by day and music by night. For more than seven years, the NSLS web developer has played guitar for Bluish, a Staten Island/Long Island-based rock band that is like family in more ways than one.
The group began with Giordano's Binghamton University roommate, a songwriter and guitarist who recruited his brother and sister to play the tunes with him on bass and flute, respectively. While earning his degree in computer/information science, Giordano led his own band before joining his friends in Bluish as a second guitarist. And in 2000, with a drummer on board to complete the five-piece band, Bluish began playing in New York City clubs and touring throughout the northeast.
"Jay (the drummer) and I are the only non-siblings, but we're really all like family," Giordano said.
The group has since recorded one EP and one full-length album, which took three months - and a lot of vacation time - to complete.
"The personal satisfaction of writing original music and the feeling you get when finishing a song is something I really enjoy," said Giordano, who in addition to juggling work, practice, and shows has recently added one more important responsibility to his schedule - fatherhood. "[Music] is the one thing that all of us love to do more than anything in the world, and if we could do what we love and make a living, that would be incredible."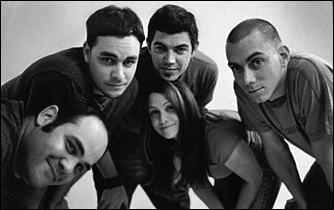 Steve Giordano, top center, and the rest of Bluish.
But with a young target audience that's used to clicking through Internet sites like YouTube and Facebook for entertainment, taking Bluish to the next level will be about a lot more than in-person performances.
"With the changing record industry, self-promotion is up to the band," Giordano said. "We do everything online and the shows back it up."
In addition to listening to choice tracks on the band's MySpace page, fans can buy music or shop for T-shirts on the Bluish website. Individual songs or the full Bluish album are also available on iTunes.
Think you or one of your colleagues has a good story to tell? Email us! Although we can't write about everyone, we would love to hear your ideas and suggestions.
2007-393 | INT/EXT | Newsroom