Meet Kerry Mirabella
November 16, 2007
Kerry Mirabella, senior project planning administrator in the Collider-Accelerator Department, works mostly at her desk at the Laboratory. But on certain vacation days, she can be found building homes in nearby neighborhoods. Mirabella is a volunteer for Women Build, a Habitat for Humanity program that enables women and girls to make a difference in their communities by building homes for families who need a helping hand.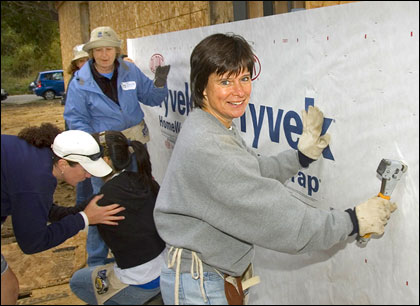 enlarge
Kerry Mirabella (front)
Mirabella first helped to build a house for Habitat in 2004, when she was part of an all-women team of volunteers who "blitz-built" a 1,008 square foot home in Bellport in six days. Before working at the building site, Mirabella attended a six-hour class with other volunteers, where they built a shed to practice construction skills.
"I worked on roofing, installed insulation, sheetrock, and vinyl siding," she said. "I was a single Mom for a long time, and during that time, I decided to get the kitchen remodeled in my home. To save money, I did some of the work myself. I tore down the sheetrock and old insulation, and ripped out linoleum. Actually, I tore down new sheetrock when I discovered one evening that the construction crew had mistakenly walled up my cat behind it!"
This past October, Mirabella helped build another Bellport home with an all-women construction crew. She prefers working on all-women sites because separating women as their own group allows them to do more and learn more, since men aren't there to help with the heavy lifting. Also, the more volunteers Habitat has, the more houses they can build, so it's important to use "womanpower" as well as manpower.
What does Mirabella get out of her hard work for Habitat? "It's a totally positive day for me. I arrive at a Habitat site and people are happy to see me," she said. "My work helps a family, and I see immediate results - a change in the building site in only one day."
Think you or one of your colleagues has a good story to tell? Email us! Although we can't write about everyone, we would love to hear your ideas and suggestions.
2007-412 | INT/EXT | Newsroom