Connie Cleary Returns to New York to Lead Brookhaven Lab's Licensing Group
September 2, 2013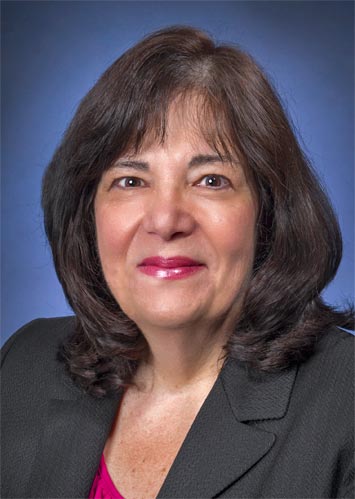 enlarge
Connie Cleary
Connie Cleary, a podiatrist with extensive experience in business development and intellectual property management, joined the staff at Brookhaven's Office of Technology Commercialization and Partnerships on August 19 as the Commercialization Manager.
A native of New York City who relocated to Chicago as a graduate student, she is excited to be returning to the state where she was born and raised.
"I grew up and did my undergraduate work in New York and went to Chicago with my husband to finish my studies," she said. "We stayed in the Chicago area and raised a family there, and now we're making the full circle back to New York."
Before coming to the Lab, Cleary was interim manager of Industry Partnership Development and a business development executive at Argonne National Laboratory (ANL) where in addition to handling a portfolio, she provided direction and supervision to a team of licensing executives. Prior to her service at ANL, she worked at Rush University Medical Center, where she created a strategy for growing research and licensing technologies.
"Connie has been successful in working with entrepreneurs, start-up companies and venture groups in 'bridging the valley of death' of early-stage technologies, and assisted in transferring many inventions into the commercial sector," said Associate Lab Directory for Global and Regional Solutions Gerry Stokes.
Earlier in her business career, Cleary also worked at the University of Illinois, Chicago, as an associate director. In that capacity, she created a team approach to building and managing its intellectual property portfolio, and supervised a team of licensing and business professionals. Before entering the technology management field, she ran a solo medical practice in podiatry.
What enticed her to come to Brookhaven?
"In addition to coming back to New York, I was drawn by the wonderful science going on here and an opportunity to work in building this licensing program," she said, "We want to make the office very user-friendly, do a lot of outreach to the research community, and build partnerships with them and with the external business community. We want companies to know that we're here to help solve some of the problems they're facing, that Brookhaven has a passion for discovery, and that 21st-century science is going on here every single day."
As a licensing professional, Cleary has handled various portfolios spanning the life and physical sciences including: therapeutics; drug delivery and devices; research tools and reagents; dental devices; software; educational and copy-written materials; energy storage technologies including lithium ion batteries; and imaging technologies.
"We look to the future and how we can help the United States in growing the economy with outside entrepreneurs and with different economic development groups," she said. "Brookhaven is doing important work in clean energy, and we want to work with New York State—through the New York State Energy Research and Development Authority—and other groups¬ to increase the impact of our discoveries and technologies."
Currently living on site while house hunting, Cleary has become acquainted with various other Lab residents.
"I have a groundhog that visits me everyday," she laughed. "There's so much interesting wildlife out here and it really makes you feel part of this entire community, because it's our mission to develop technologies but do no harm to the earth."
At her new home, Cleary also hopes to find time for her outside interests, which include mixed tennis, reading, and walking.
"I see that Brookhaven has quite a big tennis community and it's great to see courts on site," she said. "I'm also happy to be close to the beaches."
Cleary holds a BS from Baruch College of the City University of New York and a DPM degree from the Dr. Scholl College of Podiatric Medicine, Finch University of Health Sciences of the Chicago Medical School. She has completed an executive program in "Biotechnology: Strategic Management of Intellectual Property" from the Kellogg School of Management, Northwestern University, and holds the designation of Certified Licensing Professional from the Licensing Executives Society.
2013-4262 | INT/EXT | Newsroom