Brookhaven Lab Employees Help Build a Home For Local Family
Joining Habitat for Humanity of Suffolk, Brookhaven Lab/Brookhaven Science Associates employees raised the walls that will one day make a home for a Long Island veteran and her daughter
October 25, 2013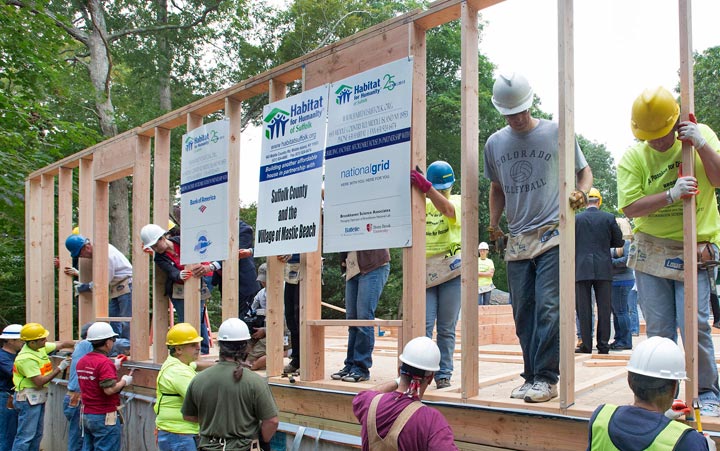 enlarge
The wall-raising ceremony kicked off the day at the build site. Volunteers from Brookhaven Science Associates, Bank of America, and National Grid worked together to raise four walls throughout the day.
On Friday, September 27, volunteers from Brookhaven National Laboratory joined volunteers from Bank of America and National Grid on a Habitat for Humanity building site in Mastic Beach. A dozen Brookhaven employees were part of the group that raised the first four walls on a home for veteran Kimberly Gilbreath and her teenage daughter Ryan.
"The wall-raising ceremony was a reminder of the kind of good we can do for our community when we give our time," said Nora Detweiler, Interim Community Relations Manager at Brookhaven National Laboratory. "It was a day full of emotion for Kimberly and Ryan, and the volunteers were excited to be doing work to help out a local family."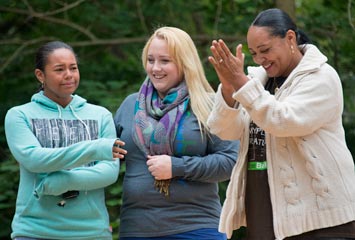 enlarge
Kimberly Gilbreath and her daughter, Ryan, are overcome with emotion as they celebrate the beginning of construction on their future home with Lindsey Ross, Manager of Family Services for Habitat for Humanity Suffolk.
As a veteran of the U.S. Army, Gilbreath made a home wherever she was called to military service. She returned to her family's house following her service, and cared for her ailing parents while working as a job coordinator for homeless veterans. She has found temporary housing over the years for her daughter and herself, but wanted a safe, stable home to call their own. Habitat for Humanity of Suffolk teamed up with sponsors Bank of America, National Grid, and Brookhaven Science Associates (BSA, the company founded by Battelle and Stony Brook University to manage Brookhaven Lab) to help make her dream a reality. BSA donated $10,000 to this project, half of the $20,000 it gave to Habitat for Humanity as part of BSA's Hurricane Sandy relief effort.
"Home ownership is one of the foundations of the American dream, so we're proud to join Habitat for Humanity and our co-sponsors to help make that dream a reality for Kimberly and her daughter," said Samuel L. Stanley Jr., M.D., BSA Co-Chair and Stony Brook University President. "We're grateful for the incredible opportunities Habitat provides to those in need, and to the volunteers — including those from Brookhaven Lab — who seek ways to help their fellow Long Islanders."
Brookhaven's Deputy Director of Operations, Mike Bebon, represented BSA and Laboratory management at the wall-raising ceremony that kicked off the day's activities.
"This is neighbors helping neighbors, which is really terrific. It shows the true character of people at the Lab, always willing to help out wherever it's needed, and with great excitement," Bebon said. "The family that's going to benefit from this home shares service in the U.S. military with me, and Kimberly is also currently working in support of veterans, so that's a really special connection for me."
The team raised four walls, added sheathing, and attached hurricane straps to fortify the home against future storms. Construction on the house will continue through December, and volunteer opportunities for Brookhaven Lab employees will be available through the next few months.
"It was a wonderful experience. I felt really good looking at the joy in the homeowner's eyes," said Vatsal Bhatt, a Brookhaven Lab energy scientist who volunteered for the day.
"It's been a lifelong dream to own my own house where I can raise my daughter," Gilbreath said on her homeownership application to Habitat for Humanity. "It will give us a sense of stability."
2013-4299 | INT/EXT | Newsroom