Reaching Beyond Boundaries and Leaving a Legacy to Inspire Young Researchers
March 25, 2014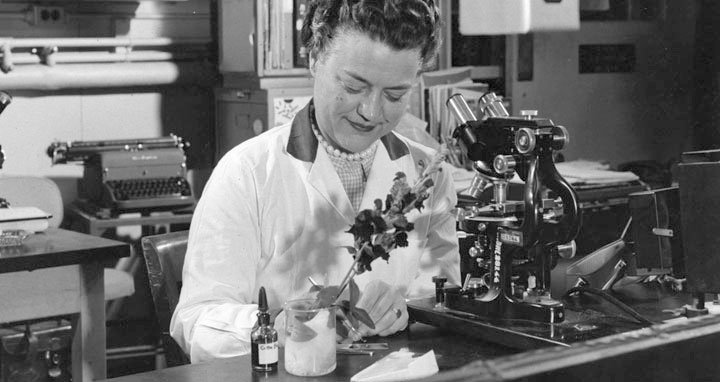 Biologist Virginia Pond
There have been many stories shared about the founding of Brookhaven National Laboratory during the post-World War II era. Photographs in the Laboratory's archives convey an exciting chronicle of scientific visions focused on the Lab's primary mission — to build a world-renowned research institution staffed with scientists who would conduct research in the peaceful use of the atom. Brookhaven National Laboratory, home to seven Nobel Prizes to date, has done exactly that by advancing fundamental research in areas including physics, photon sciences, nanomaterials, Earth's ecosystems, climate change, sustainable energy, and biosciences.
But amid those early stories stands another remarkable tale of a young woman who came to Brookhaven Lab in 1948. That woman was Biology Department employee Virginia Pond, who died in 1999.
To honor Virginia Pond's career in biology and to carry on her legacy and her passion for education, Virginia's brother, Richard Snow Pond, dedicated nearly $400,000 through his estate to a Work for Others Agreement for internships in biosciences that will be administered by Brookhaven Lab's Office of Educational Programs (OEP). The Work for Others Agreement will support research interns interested in the field of biosciences. OEP has already identified five interns for the 2014 summer program who will conduct research in environmental sciences, biofuels, ionic liquids, and plant science.
But what is equally important and interesting about Virginia Pond was her perseverance and "can do" attitude.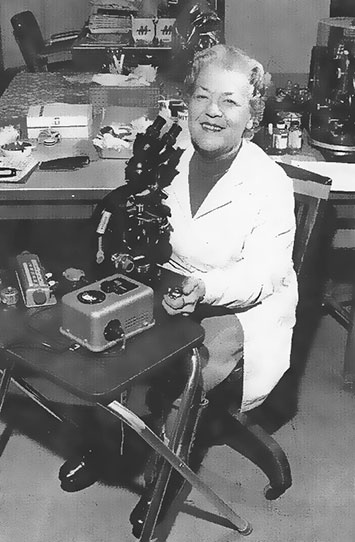 Virginia Pond
Pond was born in Larchmont, New York, where the family reaped the benefits of their own vegetable garden, fruit trees, and even a couple of honey-producing bee hives. According to her family members, Pond thoroughly enjoyed those early childhood days. The family spent summers on a farm in Westerly, Rhode Island, where she and her three brothers would sleep in tents, cool off on hot summer nights by swimming in swimming holes, and eat dinner cooked over campfires. She became an avid swimmer, stroking by her brothers at swim races and earning a good number of medals.
But all of this changed in September of 1935 when Pond became one of the many children of that era to become crippled by polio. She suffered partial paralysis of her spinal muscles and the loss of the use of both legs. The family was devastated that their adventurous little girl might not have the chance to live an active and fulfilling life. Pond's mother wanted to give her every opportunity for a normal life, so she enrolled her daughter into the Warm Springs Institution in Georgia. There Pond joined a group of children from all over the U.S. suffering from the same fate and learning how to deal with their limitations.
Pond received underwater treatments, attended regular academic classes, and worked hard so she wouldn't fall behind in her studies. She shared a cottage with the other girls and participated in theater productions. About a year after Pond arrived in Warm Springs, one evening during dinner she found herself seated next to President Franklin D. Roosevelt, himself a polio sufferer, who often visited the children there.
In 1937, after learning to walk again with the use of braces, Pond returned to her family home. She eventually entered New Rochelle High School and graduated in 1943. She entered Connecticut College for Women majoring in zoology and graduated in 1947. Soon thereafter, Pond landed the job at Brookhaven National Laboratory where she embarked on a 39-year career in biology.
Pond joined the biology department as a "lab assistant A." She left briefly in 1951-1952 to obtain her Master of Science degree in radiation cytology from the University of Tennessee. Education was extremely important to Pond, and she worked hard to earn her degrees. At Brookhaven, she spent most of her career working with the late Arnold Sparrow on research such as studying the differential sensitivity of plant cells to radiation and other stresses.
Upon her arrival at the Lab she lived at The Lindenmere – a beautiful home overlooking the Great South Bay in Center Moriches. Many of the women working at the Laboratory in those early days lived at Lindenmere, including Pond's friend Anna Torrey (who eventually married Lab researcher Raymond Davis, the 2002 Nobel Prize winner in Physics.) The Lab provided transportation for the Lindenmere residents, who included clerks, nurses, engineers, and scientists. Years later, in August 1988, Pond wrote a letter to the editor of the Brookhaven Bulletin sharing her fond memories of the Lindenmere: "The owners provided delicious meals and it was a delight to be treated to the aroma of fresh-baked rolls as we entered the premises each evening," said Pond. "And speaking of fragrances, the beautiful lindens that lined the long driveway leading to the main house provided a delightful sweet scent when in bloom."
According to a story in a May 1991 Brookhaven Bulletin, Pond recalled an extremely exciting project in 1967. She told a story about the launch of Biosatellite II from Cape Kennedy, the first effort by the United States to learn more about biological processes in space. Nine minutes after the launch, Biosatellite II ─ a 957-pound biological laboratory ─ successfully separated from the launch vehicle and began orbiting Earth. One of the experiments on board was a study of radiation effects under weightless conditions on the plant Tradescentia, the work of Sparrow's team of which Pond was a member. It is important to note that currently the NASA Space Radiation Laboratory (NSRL) at Brookhaven continues to do work studying biological processes and space radiation effects, making Pond part of early pioneering research teams in this field.
Pond's recollections of Brookhaven Lab included seeing advances for handicapped people. "For example, the reserved parking spaces, which didn't exist years ago, are usually free now for those who need them," said Pond during that 1991 interview for the Bulletin. "But right from the start, BNL employees have been 100 percent helpful. It made a tremendous difference to me," she added.
Don't think for a minute that Pond let her handicap get in the way of her education or living a successful, fulfilling life. She was more than a good researcher. She also drove her own car and spent summers traveling around the country. One summer she rented a specially equipped car and toured Europe with her mother. She was also an active volunteer for the March of Dimes.
Biosciences Department employee Richard Sautkulis worked with Pond for many years. "I admired her enthusiasm and spirit," said Sautkulis. "She never let her disability stand in the way of her work or her chance to travel and have some fun."
Following her successful career, Pond retired from the Lab as a Biology Associate II in 1991. In 1999 she passed away while living with her family at her childhood home in Larchmont.
Kenneth White, manager of the Lab's Educational Programs Office said, "These internships will help the legacy of Virginia Pond live on, positively impacting and inspiring others to pursue careers in biosciences, just as Virginia Pond did in those early days of the Laboratory."
2014-4671 | INT/EXT | Newsroom