Brookhaven, New York Blue Participate in Groundbreaking Weather Simulations
January 25, 2008
A team of researchers set a U.S. record for size, performance, and fidelity for a computer weather simulation by modeling the kind of "virtual weather" that society depends on for predicting weather and understanding climate. The simulations used New York Blue, an IBM Blue Gene/L supercomputer with a peak performance of 103 peak teraflops that resides at Brookhaven National Laboratory (BNL) and is jointly operated by Brookhaven and Stony Brook University (SBU) through the New York Center for Computational Sciences.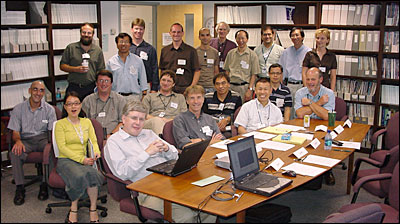 enlarge
The simulations were conducted through a joint effort by personnel from Brookhaven National Laboratory, Stony Brook University and the National Center for Atmospheric Research.
The groundbreaking simulations were conducted through a joint effort by BNL's Andrew Vogelmann, SBU's Brian Colle, and NY Blue's systems manager Stratos Efstathiadis in collaboration with a team led by John Michalakes from the National Center for Atmospheric Research. Michalakes's team was made up of researchers from supercomputer centers across the nation, including the San Diego Supercomputer Center at UC San Diego, Lawrence Livermore National Laboratory, and the IBM Watson Research Center.
The simulations used the sophisticated Weather Research and Forecast Model, which is used for weather forecasting by the government, military, and commercial businesses, and is also used for research on weather and climate by hundreds of universities and other institutions world wide. The computational power of NY Blue enabled the researchers to create virtual weather on a detailed five-kilometer horizontal grid with 100 vertical levels covering one hemisphere of the globe, which resulted in a total of some two billion cells -- 32 times larger and 80 times more computationally intensive than any previous simulation using this code. This success opens the way for simulations of greatly enhanced resolution and size that will serve as a key benchmark to improve operational forecasts, and basic physical understanding of weather and climate.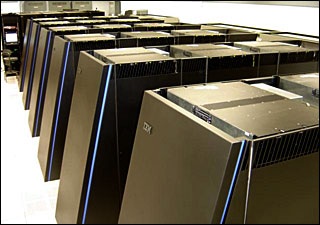 The "New York Blue" IBM Blue Gene/L supercomputer
Vogelmann said, "This is exciting. NY Blue was barely out of its wrapper and was already proving how it can break barriers in the type of high-powered computational problems that benefit regional weather forecasts and improve our understanding of fundamental atmospheric processes."
The simulations accomplished a milestone in parallelism -- harnessing many processors within a computer to work together to solve a scientific problem -- as it efficiently used more 15,000 NY Blue processors. Since this calculation is representative of many other scientific computations where vast computational arrays must be efficiently processed in concert, it also demonstrates the impressive degree to which the NY Blue architecture may be effectively applied to a variety of computational problems.
The simulations were presented by John Michalakes at SC07, the International Conference for High Performance Computing, Networking, Storage, and Analysis, where his team was one of four finalists for the prestigious Gordon Bell Prize for outstanding achievements in high-performance computing.
James Davenport, Technical Director at BNL for the New York Center for Computational Sciences, is pleased that the record-setting simulations were performed on NY Blue. "We are delighted for the center to have participated in this ground-breaking research of such benefit to its mission for NY State."
Local members of this collaboration are part of New York Climate Science -- a climate science virtual institute that uses New York Blue to address challenges in understanding the chemical and atmospheric and oceanic processes that affect weather and climate. The collaborations are led by scientists from the BNL Atmospheric Sciences Division and the SBU Institute for Terrestrial and Planetary Atmospheres.
2008-498 | INT/EXT | Newsroom