Brookhaven Lab Intern Takes Top Spot at Marcum Workplace Challenge
Brookhaven Lab teams run a good race to support local charities
August 7, 2014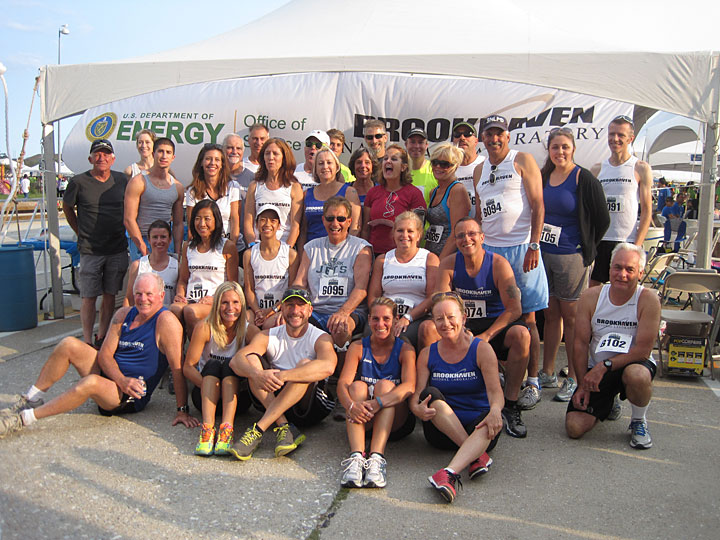 enlarge
Brookhaven Lab employees, interns, and family and friends at the Marcum Workplace Challenge, where several Lab participants earned top spots in the race. Commonly called "Long Island's largest office picnic," the event is held to support local charities.
On a beautiful summer evening in July, a bus of running — and walking — enthusiasts departed the Laboratory for Jones Beach State Park to participate in the ninth annual Marcum Workplace Challenge. The Challenge is a 3.5 mile run/walk that draws over 9,000 participants from across Long Island, as well as a hefty number of spectators who cheer on those hitting the pavement. This year, representatives from more than 200 Long Island employers and their family and friends participated in the event.
Commonly called "Long Island's largest office picnic," the event is held to support local charities. This year, donations will be sent to three charities: Long Island Cares/Harry Chapin Food Bank, The Long Island Children's Museum, and the Children's Medical Fund of New York.
Brookhaven Lab team captains and avid runners Paul Geiger (Business Development and Analysis) and Michael Mapes (Collider-Accelerator Department, C-AD), together with Betty Elder (Information Technology Division, ITD), have been coordinating the Lab's participation for several years. "Lab employees began participating in this event as far back as 1984, but in 2002 we increased the number of Lab participants," said Elder. This year, we had 42 people representing the Laboratory. And although it may be a spirited competition, it mostly brings a great sense of comradery to those who join in."
This year's event became very special for the Lab, as summer intern Benjamin Tuttle crossed the finish line ahead of everyone with a time of 17:19, taking first place in the overall competition. Following close behind Tuttle in fourth place was Tom Rammelkamp with a time of 17:49. Tom's twin brother Derek came across the finish line in seventh place with a time of 18:23, rounding out the men's team with a total time of 53:31. This earned them bragging rights to second place overall in the men's category.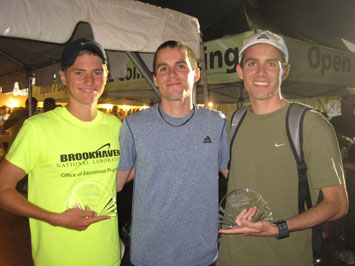 enlarge
Smiling after running the Marcum Workplace Challenge are, from left, Benjamin Tuttle, the very first runner to cross the finish line; Derek Rammelkamp, who placed seventh overall, and Tom Rammelkamp who placed fourth overall. The three runners claimed second place in the men's team category with a combined running time of 53:31.
Tuttle is a second-year participant in the Science Undergraduate Laboratory Internship (SULI) administered by the Lab's Office of Educational Programs. "It was a great night for all of us," said Tuttle. "Sharing first place with Derek and Thomas as representatives of the Lab certainly added to the already extraordinary summer I am having as a SULI student working with Michael Mapes designing vacuum and beam line layouts for eRHIC."
Derek Rammelkamp heartily agreed with Tuttle. "Whether running a race or working in the Center for Functional Nanomaterials with my mentor, Dmytro Nykypanchuk, the Lab is certainly an extraordinary and unique place, and I'm happy to be part of all of it."
A Lab women's team proudly placed seventh overall when runners Kim Ely (spouse of BNLer Wayne Lewis), Wei-Min Zhou (Sustainable Energy Technology Department), and Alice Cialella (Biological, Environmental and Climate Sciences Department), crossed the line with a total running time of 78.38.
Adding to the men's winning times were runners Wayne Lewis (Photon Sciences), Michael Mapes (C-AD), and John Robinson (Biosciences/Stony Brook University) who placed 14th overall with a total time of 69.24.
Lab team runner Kelly Backofen (Creative Resources) said she had never run in a race before and she felt a sense of personal accomplishment when she crossed the finish line. "I'm more of a cyclist than a runner, but this was for a good cause so I signed up," said Backofen who ran the race beside her husband Rick who also works in Creative Resources. "It was a wonderful event and I'm already looking forward to doing it again next year."
"It was really exciting when Benjamin crossed the finish line first," said Susan Wells (ITD) who was part of the Lab's sideline cheering squad. "It was a great night for all of the Lab teams. There was a lot of smiling and 'high-fiving' going on when each of them crossed the finish line."
"We congratulate everyone who participated in the race," added Mapes. "We're already gearing up for next year and extend an invitation to the Lab community to join us as runners, walkers, or cheerleaders."
For more information on the Marcum Workplace Challenge: http://www.marcumworkplacechallenge.com/
Brookhaven Lab participants in the Marcum Workplace Challenge thank BERA and the Health Promotion Program for supplying the bus transportation, tent, table, and chairs.
2014-5092 | INT/EXT | Newsroom