Thomas Russo: Electrical Engineer and Volunteer Emergency Medical Technician
February 26, 2008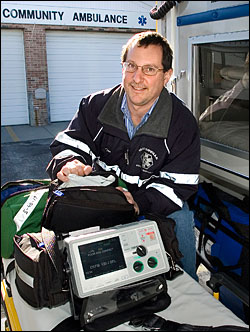 Thomas Russo, an electrical engineer who is the leader of the Instrumentation and Beam Components Group in the Collider-Accelerator Department, works to keep the Relativistic Heavy Ion Collider running efficiently during workdays. But during many evenings and weekends he can be found in the back of an ambulance, administering medical care that may save the lives of seriously injured or sick people.
Since 1999, Russo has been a volunteer with Manorville Community Ambulance, which provides ambulance services for the entire 64-square-mile community adjacent to Brookhaven Lab.
"I used to be a soccer league coach, when my two children were interested in that sport. But when they left soccer behind for other interests, I also decided to do something new," Russo said. "I wanted to help my community, so I joined the ambulance corps in Manorville."
As part of his commitment to ambulance services, Russo took a six-month course that met two nights a week to be certified in basic life support. After he passed a New York State test that certified him as a first-responder emergency medical technician (EMT), he took an 11-month, six-hour per week course to become an EMT who specializes in critical care. After he completed that course and took a more advanced test, he was able to expand his medical care-giving to include ECG monitoring and interpretation, medication administration, defibrillation and other advanced life support care.
"As part of my training, I spent a lot of time at hospitals, observing emergency surgeries, learning how to perform phlebotomies, and even witnessing autopsies," Russo said. Currently, Russo is a member of the board of directors of Manorville Community Ambulance, which employs paid staff as well as volunteers. He is also the ambulance corps' training officer and youth squad advisor.
As the youth squad advisor, he trains youngsters, ages 12-18, to become certified in life support techniques. As part of the program, the trainees participate in mock drills, and they can participate in an annual New York State contest in which they administer medical care to a mock patient in a drill and are judged on their performance. The Manorville team that Russo trained won the New York State championship in 2004, and placed third in 2006. From 10 to 15 teams participate in the contest each year.
Russo particularly likes working as the youth squad advisor. "I enjoy the opportunity to teach these kids who are interested in working for the community," he said. "Some of them may even go on to consider a medical career."
In 2004, Russo was chief of the ambulance corps, and in that year, he responded to 300 ambulance calls. Currently he does not keep up that pace, but all volunteers are required to work at least four hours per week.
As many as half of the annual ambulance calls are related to injuries sustained from accidents, such as car accidents or trips and falls, which, Russo said, makes him very aware of the importance of safety, both at the Lab and at home.
Other calls are due to medical conditions such as heart attack and stroke. Sometimes patients are reluctant to be taken to the hospital, but Russo said it is best to err on the side of caution. "If you see someone who you believe has a serious medical emergency, don't hesitate to call 911 or if at the Lab, 911 or 2222. It could mean the difference between life and death."
Think you or one of your colleagues has a good story to tell? Email us! Although we can't write about everyone, we would love to hear your ideas and suggestions.
2008-539 | INT/EXT | Newsroom